Goodbye Muleskinner Graduates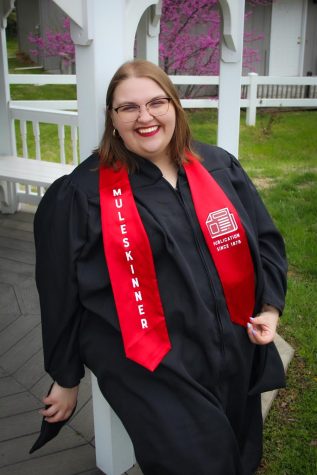 Bethany Spitzmiller
It's one thing to have someone tell you they support you, but it's another entirely separate thing to have someone actually do the work to support your dreams. Graduate student Bethany Spitzmiller is the Managing Editor and leader of the Muleskinner. After failing to see profit for about 12 years and the ceiling of the newsroom falling in on her first day, Bethany has rebuilt the Muleskinner organization from the ground up to be what it is today. She's committed her time to team development with undergraduates and staffers to make the newsroom a safe place for anyone to enter. Bethany is the one who ensures the paper gets printed every month, but also that each member of her team is taking care of themselves. She is a spectacular human being, making others feel heard, and she's one of the most authentic friends one could ask for. The newsroom has been a place where students can share their ideas, strengthen their confidence and learn new skills. Bethany is not only a great boss, but a great friend. She is willing to go the extra mile for everyone and everything because she is an incredibly dedicated person who cares about others. Before every editorial leadership meeting, she asks each editor to name something positive and something negative that has happened in the week since the last meeting. She listens to people, and when they say, "This is something I want to do," instead of saying that they should prioritize something else like school and the paper, or that their dream doesn't belong in the newsroom, Bethany instead says, "Okay, let's do it." Bethany is like a mother hen — if mother hens had to organize multiple students' schedules, make sure accurate and fair stories are being written every month, design entire issues by herself, write a thesis and look for a job after she graduates, all while dealing with cynics who don't understand her commitment to truthful journalism. Behind every paper is a team of scrambling, young journalists who are learning and dealing with full-time school, part-time jobs and their lives. Bethany is the glue that holds us all together, if glue was made of rainbows, butterflies and sunshine.
Anna Furney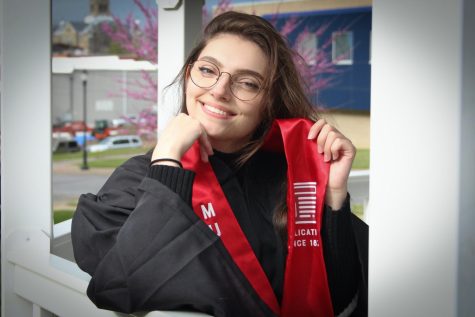 Anna Furney is the copy editor for the Muleskinner and the occasional reporter — probably one of the best people to go report with, too, as she will check where you can park and make sure you aren't going to be executed as a national threat. She makes sure we all delete our oxford commas and spell things correctly. U wood think we could all spel by now, butt she has managed two find sum job securitee. Besides making sure we follow AP guidelines and that our articles are readable, she is also a fantastic friend. From Chinese food on Tuesdays after editing nights to her hilarious facial expressions, she is constantly keeping the staff laughing. Typically in our goodbyes, we wish our graduates good luck in whatever they're doing next, but for Anna, we know she will be returning to UCM for graduate school. She has also been selected for a graduate assistantship within the history department! Congratulations! We're so proud of your accomplishments and know you will have a great next two years learning, continuing to strengthen your skills and still eating crispy rolls from King Chef.  
Gabriella Ellis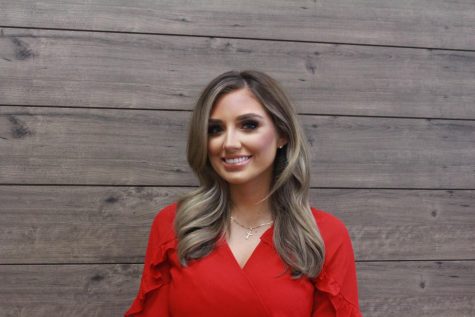 Gabriella Ellis is the Muleskinner's Publicity Manager and Distribution Coordinator. She successfully makes sure our audience members get print copies of the Muleskinner in their hands and online content on their screens. She always strategizes ways to increase our readership and audience engagement. She also organizes different events hosted by the student newspaper. While she's behind the scenes at the Muleskinner, she has been an integral part of the team. From organizing our alumni social to handing out newspapers during the homecoming parade, Gabby has helped the Muleskinner grow and improve during her involvement. Scheduling social media posts, Gabby is involved with all of our content sections in a small way, but she recently was awarded second place for her sports writing for the Missouri College Media Association conference. Gabby always has a smile on her face and is welcoming to every member of the team. She's been a joy to work with and we hope you take your experience here and continue to succeed in whatever goals you set.
Angela Evatt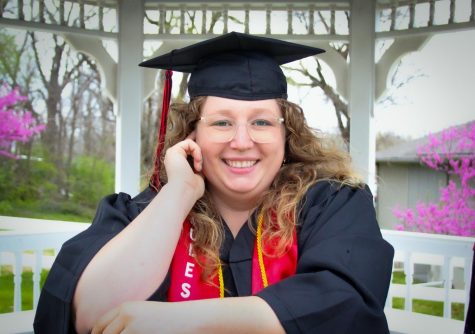 Angela Evatt started at the Muleskinner as a reporter, covering accessibility awareness with the aim of informing students of those issues and fostering inclusivity. Throughout her time at the Muleskinner she found a place to call home on campus and made a position for herself. Angela is the first Diversity, Equity, Inclusion, and Accessibility Editor the Muleskinner has ever had. She pointed out a need and created her own position to make a difference. She has focused on coverage ranging from topics like emotional support animals to accessible communication. Her article, "Inclusivity for the Deaf-Hard of Hearing Community Starts with Accessible Communication for All" was recently awarded third place for multimedia package at the Missouri College Media Association conference. In addition to keeping our staff and campus aware of these issues, she also makes us smile when she points out what the actual sign for Mule is and always speaks her mind. Angela is just a bubbly and wonderful person to be around and we're all so excited to see where she goes next and the good that she will no-doubt bring to the world.
Blair Miller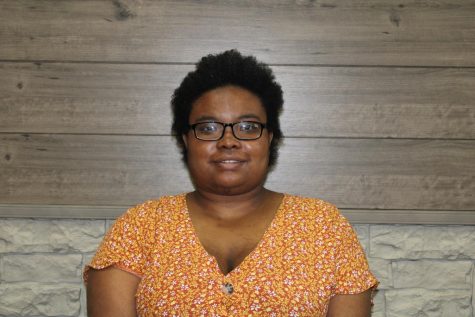 Blair Miller has been an intern at the Muleskinner for the past two semesters, and while she is not joining our other Muleskinner graduates at the UCM graduation ceremonies, she still has an amazing reason to celebrate. Blair is part of the THRIVE program at UCM, which prepares students with disabilities to transition to independent living and find employment that fits their individual goals and abilities. Blair is completing her second year of the THRIVE program and is receiving her Certificate of Success. As the THRIVE program has recently extended to four years, Blair has decided to continue her experience with the program. She will be taking more classes at the university level and gaining more job skills with additional internship opportunities. At the Muleskinner, she's worked so hard, always asking what she can do to make stories better. We're excited for Blair and proud of the growth we have seen from her during her experiences with the Muleskinner. Great job!
Leave a Comment
About the Contributors
Emma Fischer, News Editor
Emma Fischer is a sophomore currently pursuing her bachelor's degree in actuarial science and a minor in art. As a news editor, she ensures campus events...
Meah Copeland, Sports Editor
Meah Copeland is a senior Digital Media Production Major. Her emphasis is in Digital Journalism and Sports Reporting and Broadcast. Meah started writing...