By Abbey Tauchen
Students strolling down the Warrensburg High School foreign language hallway are surrounded by a whirlwind of color and culture – green, red, blue and yellow.
These bright, joyful colors are enough to raise any student's spirits on any day – maybe not on a Spanish IV test day, but yes, most days.

As students pass each foreign language classroom, they come across another expressive mural, adding a pinch of culture.
Students are now being greeted by a new mural as they pass through the foreign language hallway. The hallway, consisting of Spanish and French classes, includes colorful murals created by students dating all the way back to 2002. The murals are predominantly Spanish-themed, as the 400 hallway at one time consisted only of Spanish classes. More recently, French classes were moved to this same hallway.
After years without any changes to the murals, Spanish teacher Marifer Walter and senior Shania Montufar came up with the idea of incorporating both French and Spanish cultures into one mural last May.
With a masterpiece in mind, Walter and Montufar gathered a group of student volunteers including current WHS students Grace Kennedy, Grace Bushmeyer, Jimmy Le, Natalie Fatka and Colton Palmer, as well as WHS alumni Bernadette Schrag, Amreen Hasan, Shelby Palmer, Loan Tran and Kieu Duyen Tran.
"Our hope is that students will be able to admire the mural when they pass through the foreign language hall, which will hopefully provoke them to think about some of the values our department holds, especially those of multiculturalism and overall coexistence," Montufar says.
The theme of the mural is "Unity Creates Strength." Above the mural it reads, "La unión hace la fuerza" and "L'union fait la force," depicting the phrase in both Spanish and French. Below the thematic phrase, a globe opens up to a handful of different flags.
Junior Jimmy Le agrees that the mural "gives a broader perspective on the languages" since "every flag depicts a country that speaks or has spoken French or Spanish as its primary language."
This project was approved by former principal Simone Dillingham and funded by the school. Walter also purchased additional supplies on her own.
Creating the mural was a long process for the student volunteers. The mural was drawn almost entirely freehand and then painted.
Grace Kennedy explained that the hardest part of the mural was recreating all of the small emblems.
"It was more challenging than you'd think, trying to paint on the walls," she says.
They used small paintbrushes and then some sharpie work at the end.
Students throughout the school say they are enjoying the newest addition to the foreign language hall. Senior Delaney Sauer says she likes the school murals because they "are really colorful in a school that is gray and white and red." Sauer says she believes that students "can be benefitted by the inclusion of the newest mural."
The splashes of color in the 400s hall first came in 2001 when Walter and former Spanish teacher Maria Lara worked together to paint the walls green, blue, red and yellow. Shortly after, the first of five murals was created by student Isabella Ramirez in 2002. Her mural depicted a woman grinding maize for tortillas, a copy of the famous mural "La Molendera," by Diego Rivera. The original painting is currently located in the Museo Nacional de Arte in Mexico City, Mexico.
The second mural cascades down the wall of one of the two stairwells that lead to the foreign language hallway. This mural is an abstract created by students Justine Harris and Temerity Mathews in 2006.
The third mural depicts a scene at "La fruteria," a Hispanic fruit market. In 2006, students based the mural off of the ideals of Carmen Lomas Garza, the woman who originally came up with "La fruteria." Garza is an accomplished artist who also writes children's stories about Hispanic families.
The mural depicting a townscape was fourth to come to the school in 2013. It portrays a Hispanic town with a European influence. This time students began to incorporate French culture into the murals. WHS alumni Loan Tran and Kieu Duyen Tran were two of the many students who worked on this mural. These two came back to help with the newest mural this past summer.
Walter says that she would like to continue adding student murals to the school in future years.
"I think that displaying the work of our students and their talent is a way to celebrate students' talent and hard work," she says. "I love seeing these murals in our hallways and I feel very proud of all the students that have participated to make this possible."
Walter also said she wants to continue the legacy of the students who work on the murals.
"I want them to be able to look back and come back to the high school and know that they were part of something that will remain in the school, and to feel proud that future generations will enjoy their hard work and creativity," she said.
Abbey Tauchen is a senior Rookie Reporter at Warrensburg High School.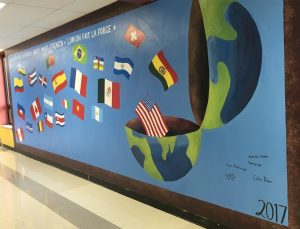 Story continues below advertisement