A Celebration of Life: Robb Madden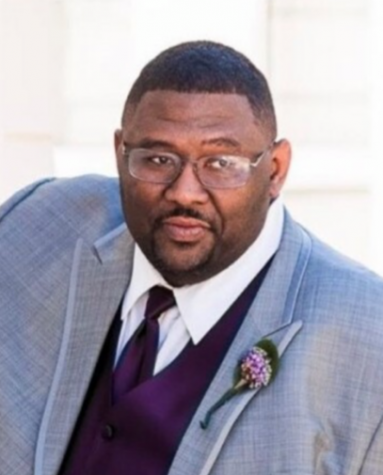 Robb Madden, the University of Central Missouri's first Africana studies minor student, passed away on Sept. 21 in Overland Park, Kansas. 
  Madden graduated from UCM with a degree in political science and was a member of the Alpha Phi Alpha fraternity. He also received a master's degree in education from UCM in 2005.
  Madden was an educator after his time at UCM, and spent time in multiple school districts. He was the assistant vice principal at Smith Hale Middle School in Kansas City, Missouri at the time of his passing.
  Madden remained connected to UCM as a student and had established roots in the Africana studies program, as he founded the Africana Studies Club and the Africana Studies Leadership Council.
  He also founded the Blanche Kelso Bruce Scholarship at UCM, named after the first African-American to serve a full term in the U.S. Senate, to honor Madden's family and help students pursue their college education. 
  Delia Gillis, the Africana studies program coordinator at UCM, said there has been discussion on renaming the scholarship after Madden.
  Gillis said Madden was involved in social issues and described him as a "people person" with "great leadership skills."
  Gillis saw Madden's generous spirit firsthand on a number of occasions. For instance, Madden paid for lodging in Lawrence, Kansas for UCM students attending the Big 12 Conference on Black student government. 
  Gillis said one of the students Madden helped has grown into a strong student leader, with the Big 12 Conference playing a part in their development. 
  Madden's generosity has stuck with his loved ones. Madden once took a group of high school students to a Missouri Tigers football game despite being a KU fan.
  Other stories range from helping his neighborhood Family Dollar to serving turkeys to needy families on Thanksgiving.
  J.L. Adolph, Madden's fraternity brother and friend, said Madden's generous actions weren't for attention.
  "He didn't even really want recognition or praise for it," Adolph said. 
  Adolph said Madden, like the late Rep. John Lewis, was someone who looked for "good trouble" and would fight for the people he believed in. 
  "If he was on your side, he defended you fiercely," Adolph said.
  Adolph and Madden met nearly twenty years ago at UCM. Madden made a strong impression on Adolph.
  "I was just blown away by his leadership," Adolph said. 
  Madden was a 6'2 former football player and wrestler, whom Adolph referred to as a "papa bear" and a "gentle giant" to the people who needed his support.
  Obum Ukabam, Madden's fraternity brother and close friend, echoed Adolph's sentiment.
  "As fierce as he was, he had a heart of gold," Ukabam said. "He would give anybody his last dollar."
  Ukabam said Madden helped him a lot during his time at UCM and fondly remembered his time spent with Madden.
  "He was just a fun guy to be around," Ukabam said.
  Ukabam noted that Madden was a regular community service participant. Ukabam, who resides in Tulsa, Oklahoma, said he was inspired by Madden's actions to make an impact in his community. 
  William Rall, a close friend of Madden's, said that Madden wouldn't take no for an answer and was stubborn in a good way. 
  He said that Madden's hard work played a significant part in making his fraternity chapter award-winning and was someone who gave back to his community.
  Rall said Madden stood as an advocate for diversity and for all students at UCM. Rall and Madden started off as acquaintances and soon became close friends.   
  "He was unbelievable," Rall said.