The Warrensburg Schools Foundation recently announced the winners for the Dual Credit Scholarship.
The winners were awarded the scholarship on Sept 14. The students awarded were Brook Barker, Gracie Brant, Kalissa Castanedo, Nolan Chapman, Jimmy Le, Kaylee Russell, Richard Saettone, Gabrielle Shull and Russell Sproat.
Judy Long, executive director of the Warrensburg Schools Foundation, said the Dual Credit Scholarship courses are taught to high school students by college-approved instructors to allow students to receive both college and high school credit. She said normally dual credit classes are offered at a reduced rate of tuition, but the scholarship helps them pay for the cost.
"The Foundation has awarded 97 scholarships since the fall of 2013," Long said. "Not all, but a lot of our students taking dual credit courses are receiving college credit from the University of Central Missouri. If the student plans ahead, they can earn enough credit for one or even two semesters of classes before they even start college."
Bob Lotspeich, president of the board of directors of the Warrensburg Schools Foundation, said many students take dual credit courses through UCM and other students take them through the Warrensburg Area Career Center with State Fair Community College.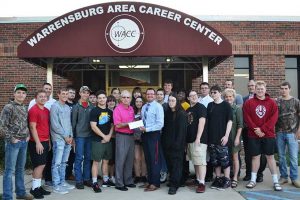 "We don't keep track of how many students actually go on to attend UCM. However, 15 out of the 18 scholarship applicants this fall were taking dual credit classes through UCM," Lotspeich said. "Our students have told us that they are happy they were able to earn a lot of their general education requirements before they even began college. And because many students are responsible for paying for their own college fees, they are thankful for the tuition savings."
Long said the Warrensburg Schools Foundation helps students by providing Impact Grants, employee scholarships, student scholarships and academic recognition.
"The Warrensburg Schools Foundation is (a) nonprofit organization that strives to provide support to the Warrensburg R-VI School District for needs above and beyond the core curriculum," Long said.
Long said to be awarded for this scholarship, the committee reviews the applications and score them on the students financial need, class ranking, how they performed in the dual credit classes.
"The committee looks to fund requests from the students with the greatest financial need first. If there is scholarship money left over after the greatest financial needs are met, then the committee looks to give other applicants assistance as well," she said. "In some years, that has meant that every applicant has received a scholarship to use towards their dual credit classes. It may not be the full tuition cost, but an amount to help with a portion of the fees."
Long said the Warrensburg Schools Foundation also awarded a $400 dollar scholarship to Warrensburg Area Career Center to cover the fees of the dual credit classes for the 2018 fall semester.
Lotspeich said the Dual Credit Scholarship helps many students financially to receive higher education.
"We recognize that for some students and their families, the cost of college tuition is a hardship. We are very pleased that the Dual Credit Scholarship program is able to alleviate some of this hardship and assist our students with their academic goals," he said. "And because they earn the credit while they are in high school, they are able to begin college ahead of the game."
Long said the scholarship helps students prepare for college life.
"Students taking dual credit courses are able to get a jump-start on their college careers by earning college credit hours at a lower tuition rate," she said. "The courses help the students prepare for college by allowing them to take college classes, but in a high school environment."

Warrensburg High School students can apply for the Dual Credit Scholarship in January 2019 for the spring semester. For information on how to apply, email Judy Long at [email protected].
Story continues below advertisement