Emotional Support Animals Provide Accommodations for Students

  According to the Office of Accessibility Services, as of the beginning of October, there are 68 ESAs registered on the University of Central Missouri campus. 
  "This is a bit less than when we had over 100 a few years ago, however, the number of animals will continue to increase throughout the year," Cathy Seeley, director of accessibility services, said.
  Some students have chosen to get an Emotional Support Animal to better enhance their chances of academic success. According to the ADA National Network, a service dog is trained to perform specialized functions or jobs for an owner who has a physical, intellectual or emotional disability. An emotional support animal serves as more of a companion for the owner, but it's important to note that they are animals that have a specialized purpose accredited by doctors more than domestic pets. These support animals provide companionship, relieve loneliness and sometimes help with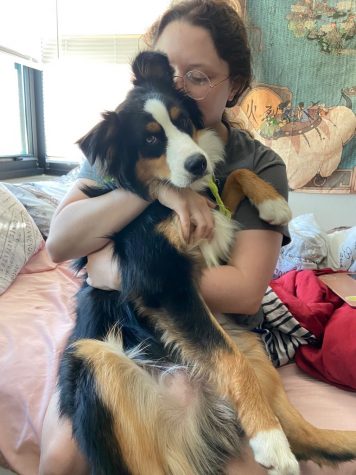 depression, anxiety and certain phobias, but do not have special training to perform tasks that assist people with disabilities.
  Laura Haney, mathematics and secondary mathematics double major, and her dog, Jackson, have been in each other's lives since November of 2020. Jackson has been living at The Crossing apartments on campus with Haney since spring 2020. Haney said while she was lonely when she lived alone, Jackson has helped her to have someone to take care of. 
  "I can't imagine life without Jackson," Haney said. "He's super cute and fluffy." 
  The process of registering a fur companion as an ESA requires going through multiple steps. One needs to be able to find a doctor that will provide a letter of documentation to prove the need of an ESA, fill out an agreement form that the student will take full responsibility of the animal, provide verification that the animal is up to date on all vaccinations and is spayed or neutered, and be registered with the OAS office.
  "The hardest part was finding someone to write the letter for me," Haney said. 
   This is often difficult because finding the right people to prescribe adequate documentation can be a challenge.
  Having an ESA on campus creates additional responsibility because students have to take care of a life other than their own. For some students this is a benefit, but it doesn't mean an ESA is for everyone.
  Holly Hagood is a sophomore majoring in radiology. She's a mulerider, works full time as a campus advisor and lives with her dog, Shortstacks. Shortstacks is a mix of Australian Shepherd, Australian Cattle Dog and German Shepherd.
  Hagood grew up on a farm and has always been around animals. So, when she moved on campus, away from her family, boyfriend and critters, she said she found herself touch deprived.
  "I was really anxious and depressed," Hagood said.  "I barely got out of my room aside from going to and from classes." 
  Hagood went to the University Health Center in December 2019 to ask what's needed to bring an ESA to the university. After learning about the requirements, the next challenge for Hagood was choosing the puppy to be her support system.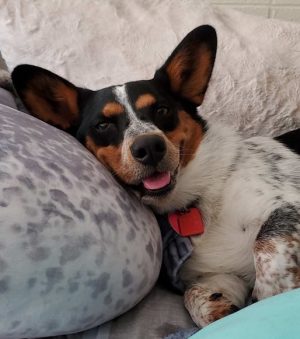 Since her family breeds dogs, Hagood was able to select her furever companion from a litter, get her trained and bring her to Warrensburg. Hagood said having 'Shorty' by her side has made a difference for her.
  "The long hours of doing homework while having her really forces me to go take a break — to go outside and recharge myself before getting back into it again," Hagood said. 
  Hagood said she believes getting a dog is not for everyone.
  "No dog deserves or should be in a pen for 8-12 hours a day," Hagood said. "If someone wants a low-maintenance lifestyle, get a low-maintenance dog, like a senior dog." 
  Hagood takes Shorty to the Cave Hollow dog park whenever she can, and said that other people with dogs are automatically her friend because they also enjoy dogs.
  Kodi Stockstill, a junior middle school education major, decided to get an emotional support animal for the same reason as Hagood. She wanted a companion on campus.
  "I didn't know anyone, so I would just go to class and back to my dorm room and that would be it," Stockstill said. "So, once my suitemate got her own ESA dog, I thought it would be good for me."
  Being prescribed an ESA was a process for Stockstill. She tried contacting a counselor she used to go to before college, but they wouldn't approve it. Only certain people can make the decision if an ESA is an appropriate prescription.
  When Stockstill went home during Thanksgiving break, she spoke with her doctor, and she approved her for an ESA. 
  Her emotional companion is Nola, a two year old dachshund-mix, and they have been together since December 2019.
  Adding an animal to a student's support system can provide a level of comfort while away from home. ESAs also can help provide emotional regulation and needed structure for certain students. If any students are interested in bringing their ESA to campus, they can contact the accessibility office and talk to one of the staff members there.