Jennies Win NCAA Regional Tournament
More stories from Meah Copeland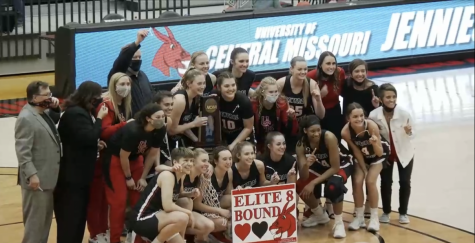 March 12-15, the University of Central Missouri Jennies basketball team entered the NCAA Central Regional Tournament and won every game. Jennies picked up three wins to be NCAA Regional Champions. 
  The Jennies entered the tournament at the number four seed and had to play against St. Cloud State University Huskies in the first game. The final score was 66-52. The Jennies shot 48 percent from the floor, 31.6 percent on three-pointers and 72 percent on free throws.
  Freshman guard Olivia Nelson led the Jennies with 20 points, two assists and one steal. Senior guard Gigi McAtee had six assists and senior Morgan VanHyfte had one block. Freshman forward Graycen Holden had 11 rebounds and nine points. 
  The Jennies then advanced to play Fort Hays State University Tigers. The game was close throughout the whole game, and it came down to the last shot by the Tigers, which missed the basket. The final score was 72-68. The leaders for the Jennies were freshman forward Brooke Littrell and Holden who both scored 17 points and had six rebounds. Nelson helped with 16 points, four assists and five steals. The Jennies scored 50 percent from the floor, 42 percent from the three-point line and 63 percent from the free-throw line. The Jennies have made it to the finals in the tournament. 
  The final game was against the University of Nebraska-Kearney Lopers. The score was 67-57. Littrell led the Jennies with 17 points, 16 rebounds, one assist and one block. Senior guard Nija Collier had four assists and five turnovers. The Jennies finished the game 45 percent from the floor, 46 percent from the three-pointer and 78 percent on free throws. 
  Littrell was named the MVP of the tournament and Nelson made the All-Tournament team. This season will be the second time that the Jennies are going to the NCAA Elite Eight in the last three years. The Jennies will be traveling to Columbus, Ohio, to play in the tournament for the National Championship. The Jennies will be entering as the number 5 seed, and they will be playing against the number 4 seed, Belmont Abbey College, on March 23.
Leave a Comment
About the Contributor
Meah Copeland, Sports Editor
Meah Copeland is a senior Digital Media Production Major. Her emphasis is in Digital Journalism and Sports Reporting and Broadcast. Meah started writing...