Rugby Hits the Road
The University of Central Missouri Rugby Club traveled to Kansas City for Midnight 7-on-7 Madness Tournament at the Kansas City Soccer Dome. The team was placed third over eight teams from the Feb. 19 matches.
The Rugby team hosted a UCM Round Robin Tournament, and placed first over four teams and went 3-0-1.
The team gets a break until they are on the road again in March. They will be traveling to Arkansas and Rolla-Missouri for S&T Saint Patrick's tournament and the final matches of the month are the Kansas City Rugby Football Club tournaments in Kansas City, Kansas.
UCM alumnus Bo Varvil has been the head coach for two years. During his time at UCM, he played in all 15 positions. He said the strategy at Midnight Madness is to have energy to keep playing.
Junior Philipp Rojas-Zdjelar, hook for the Rugby team, said he drinks energy drinks to stay awake during Midnight Madness.
"It's a good way to kind of see where we are as a team," Rojas- Zdjelar said. "It's just a time to have a good time, play some rugby, enjoy some drinks with people and just all around have
some good fun."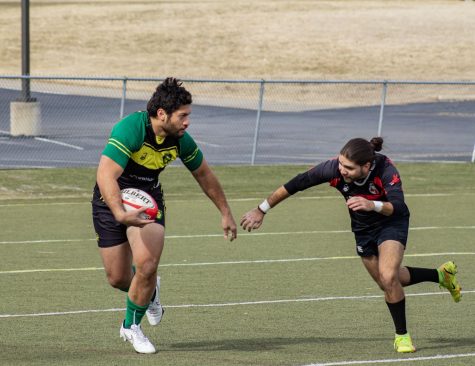 "A lot of the guys are self motivated. So they really want to win," Varvil said. "I try to keep a positive attitude."
Varvil said the team is always looking for the win, even when they are having a tough time on the field. He said the team is capable of turning a game around in a short period of time, and having a positive attitude keeps everyone calm.
"I think rugby is the greatest sport ever made," Varvil said. "I really like just how fast it is. But also getting to know the group of guys that you're playing with, you can form some really strong bonds."