Waterfall chasing in Washington
By SANDY IRLE (digitalBURG) —
We love waterfalls, and that brought us to Washington.
Arriving on a late flight to Seattle (which yielded a serendipitous surprise later in the trip), I booked a room near the airport. The next morning found us in a rental car and navigating the steep one-way streets of Seattle's historic First Hill District to find the Sorrento Hotel.
Promoted as "Seattle's first and longest-operating boutique hotel," its luxurious without being stuffy. Fun fact: They change the carpet in the elevator every day with the day of the week woven into the carpet.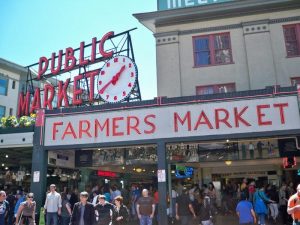 It's a short walk to the "World Famous Pike Place Fish Market" and a fish throwing show that draws quite a crowd. What a treat to wander through the market looking at the profusion of fresh flowers, fruits, vegetables and crafts. Choosing from the many eateries in the market, we lunched at Lowell's Restaurant & Bar overlooking Elliot Bay. Opt for the bar, order a Rainier beer (ask for the bottle cap & check out the game) and wait to cop a bayside table.
After lunch, if you take a walk along the bay you might see a group of nude cyclist protesters or a guy performing with two hula hoops while balancing a guitar on his head, like we did.
After a drink in the luxurious Fireside Room of Hotel Sorrento, take advantage of their complimentary car service for an evening out.
With a reservation that allowed us to enjoy the sunset, we dined at Seattle's iconic Space Needle's rotating Sky City Restaurant, one of the few rotating restaurants in the world. To our delight we were rewarded with unusually clear skies for a fantastic panoramic view of the city and the snowy peak of Mt. Rainier. There is quite a view from the observation deck of the city and beyond to three of Washington's national parks — Olympic, Rainier and North Cascades.
The next morning, it was time to travel along the scenic 440-mile Cascade Loop drive through the Cascade Mountains. This drive is full of natural wonders, wildlife in abundance, fresh food stands, farmer's markets and charming little towns. It's no wonder they call them the Cascades. There are waterfalls everywhere and beautiful vistas around each corner. With so much to see and do along the way, it pays to slow down and enjoy the drive.

Driving the North Cascades Scenic Highway is a feast for the eyes and the taste buds. The 40-year-old Cascadian Farm in the foothills near Rockport has a roadside stand that is open in the summer, luring us in with organic ice cream and berries. Farther east, the view of Mt. Baker and the drive through the North Cascade National Park is breathtaking. You pass over the highest point at the Washington Pass Overlook with a natural rock ledge perched 700 feet above the highway. The road is open only in the summer due to snowfall, and it's a nice, cool drive even in July.
This part of the trip was exciting. After a relaxing night in Twisp, located at the confluence of the Twisp and Methow rivers, the next stop was the Salish Lodge & Spa located next to Snoqualmie Falls, and a weekend to celebrate my husband Mark's birthday.
The Salish is not far from Seattle, and a popular spot for an evening out. The lodge's Attic bar has an open feel with its high ceilings and tall windows, offering a view of the top of the falls. The smoked salmon chowder is a not-to-be-missed menu item.
The Salish Dining Room on the main floor features Northwest cuisine. We were delightfully surprised to be treated to their "best table" the first night, a private dining room with an exceptional view from the top of the waterfall. The food and service are incredible.
After dinner, they presented Mark with a chocolate cake dessert with his name and a birthday greeting in chocolate calligraphy on the plate. We were in heaven.
The next day it was time to linger for a bit to view Snoqualmie Falls and the surrounding two-acre park. Further exploration brought us to Wallace falls (a spectacular three tiered waterfall) and Twin falls located in Snoqualmie Pass. It was a great day to hike in the mountains and we got in eight miles.
Getting back in time for happy hour at the Attic bar, I went up to snag a good table (and some more salmon chowder) while Mark went to the room, saying he'd meet me in a few minutes. Twenty minutes later I was beginning to wonder what had happened to him. I was about to call the room when he walked in shaking his head. "I forgot you were here," he said. "I got a call when I got to the room and they said they had something for us." The management had sent a chilled bottle of champagne, glasses, candles, handmade truffles, roses and a spa bath package, with a note saying, "From all of us at the Salish Lodge & Spa, a warm welcome for a memorable stay."
We were flabbergasted.
The second evening we looked at each other and said, "no way!" when we again got "the table." It was then that we remembered our chance meeting with "Pat" on the plane. He was flying on business and lives in Seattle. I told him how excited I was about treating Mark to a weekend at the Salish, which he said was a great choice and mentioned that he knew the manager. I was sure that he'd made a call to his friend and helped make this weekend extra special for us.
When I got home, I emailed him, thanking him for his kindness, and he replied, "Feeling the excitement in your words…(was) enough encouragement for me to reach out and help you get started on the right foot."
The rest of our journey was equally memorable, but Pat's act of kindness will always stay with me. I hope to get a chance to pay it forward one day.
Sandy Irle lives on a Century Farm near Warrensburg and has so far visited 23 countries and 45 U.S. states.
[email_link]