Throwback Thursday: UCM Holds Festival of Research Works in Scholars Symposium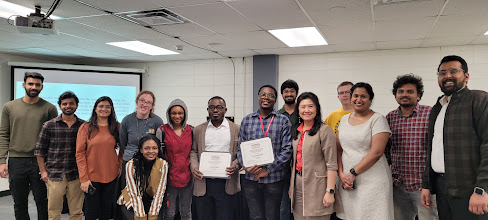 The annual University of Central Missouri Scholars Symposium was held on April 4, with 122 research projects showcased at the event. The 2023 Graduate Scholars Symposium featured research carried out by UCM graduate and undergraduate students, faculty and staff from all disciplines. The Graduate Scholars Symposium was held in conjunction with the Undergraduate Research Symposium.
  The symposium featured in-person oral presentations, poster presentations, as well as pre-recorded electronic virtual presentations. The event was attended by management staff of UCM, led by University President, Roger Best. Other members of faculty at the symposium were: Suhansa Rodchua, Marietta Watson, Rob Hallis, Sanja Gidakovic and Jon Taylor.
  Best said the goals of the symposium are to showcase the outstanding quality and diversity of research and scholarship at UCM. 
  Coordinator of the Graduate Scholars Symposium, Drew Burkeybile said, "Seventeen faculty members shared a poster presentation; a total of 17 graduate students gave an oral presentation; no fewer than eight graduate students shared a poster presentation; one graduate student shared an E-entry presentation; 23 undergraduate students gave an oral presentation; and 56 undergraduate students shared a poster presentation/fashion design." 
  Both Burkeybile and Tom Goldstein, the director of Undergraduate Research, said that the presentation can be added to the student's resume, adding that the symposium provides a comfortable environment and a good starting point for students' professional or scholarly careers. 
   Speaking on his experience, one of the participants, Akande, said that presenting his research or project to an audience of experts and peers was a great opportunity to receive valuable feedback and suggestions for improvement. Akande advised any student who missed out on a graduate symposium to begin to prepare for other opportunities to be engaged and improve their academic experience.
  "Participating in the graduate symposium was a rewarding experience that allowed me to develop my presentation and communication skills, connect with others in my field and receive valuable feedback on my work," Akande said. "However, it was also a bit intimidating to stand in front of a crowd and share my work. I felt a sense of pressure to perform well and effectively communicate my ideas."