UCM Hosts Kansas City Writers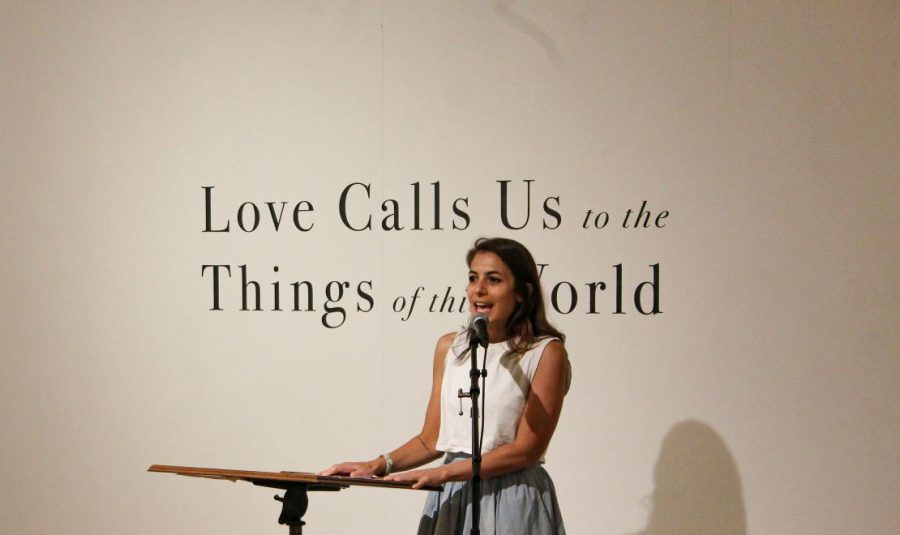 Creative writers Hadara Bar-Nadav and Jameelah Lang visited the University of Central Missouri Art Gallery on Sept. 14 for the Pleiades Visiting Writers Series. The two writers shared some of their work, both recent and from years past, with attendees, many of whom were UCM creative writing majors. 
   Pleiades is a literary biannual founded by UCM undergraduates in 1981. According to the Pleiades website, "Pleiades: Literature in Context is a literary biannual featuring poetry, fiction, essays, and reviews by authors from around the world. Past contributors include winners of the Nobel, Ruth Lilly, Pulitzer, Bollingen, Prix de la Liberté, and Neustadt Prizes, recipients of Guggenheim, Whiting, National Book Critics Circle, and National Book Awards, and many writers seeing their work in print for the first time." 
  Lang was the first writer to speak, sharing her creative fiction stories and essays for the first time at UCM. Lang also elaborated on how she first came into contact with Pleiades.
  "I had heard of Pleiades a long time ago, when I was first becoming a writer 15 years ago," Lang said. "When I got a submission accepted in Pleiades as a graduate student, it was a huge moment for me."  
  During Lang's time speaking, the UCM Art Gallery was still and silent, other than Lang's work cutting through the room. Her stories filled the room as she briefly shared her work. After her reading, Lang spoke about why she thinks creative writing is important to both our world and students studying it. 
  "If you can learn storytelling, which is the oldest art form that humans have been engaged in, and the way that we've communicated for centuries and centuries, then you can be successful and find a place in any industry," said Lang.
"I think we talk about creative writing as something that sets you up for a career as a teacher or that equips you to be a writer, but I know writers who have gone to work in ad agencies, to run political campaigns, to work at accounting firms, so I think storytelling is just really valuable."
  After Lang finished her final piece, Hadara Bar-Nadav gathered the crowd's attention. Bar-Nadav's poetry struck the room quickly as she accentuated the meter of her work. Her most recent work is concerned with the process of trauma and healing. 
  "Most recently, I've been writing about intergenerational trauma and also medical trauma and the possibility of healing," Nadav said. "In previous books, I've written about the intersection of poetry and visual art, poetry in architecture, and I'm also particularly interested in prose poetry and the elegy, which is poetry in honor of the dead."
  Bar-Nadav's work had a clear impact on the crowd. 
 Senior Havilah Barnett, who introduced Bar-Nadav at the reading, shared her thoughts on why events such as these are so important to students and aspiring writers.  
  "I think it's beneficial just to be around other people who take writing seriously," said Barnett. "You can ask questions, so you can learn things and maybe even get some insider tips for applying to MFA programs."
Bar-Nadav shared why she thought the Pleiades Visiting Writers Series was important. 
  "Well, I love going to readings myself," said Bar-Nadav. "I think it's an amazing education to hear how people present their work and how that brings poetry to life in a different way, and there's also invaluable opportunities to talk to the authors—to ask them questions."