"
I love drag. It's so much fun. There is lots of joy that goes on in here. It's a welcoming environment where everybody is made to feel safe and warm.
— Caleb Dillon, sophmore
The University of Central Missouri's Mo's Activity Council hosted the 12th annual Red, White and Rainbow Drag Show by partnering with student LGBTQ organization, PRISM and the external organization Free Mom Hugs. The event continued despite changes to the funding source. Students expressed their support for the event leading up to the performance.
"I love drag. It's so much fun. There is lots of joy that goes on in here. It's a welcoming environment where everybody is made to feel safe and warm," Caleb Dillon, sophomore said.
Drag performers, both drag kings and queens, don exaggerated hair, makeup and costuming usually in addition to a lip-synced performance. The performances are all about satire and challenging social norms. The first drag show at UCM was hosted in 2013, to create a function to promote diversity and inclusion on campus. Students still see the drag show's original message even years later.
"It kind of shows everybody that there is a space to feel safe at. No matter how different you are, there is always someone that is going to be similar to you," junior, Leilani Craig, said.
Story continues below advertisement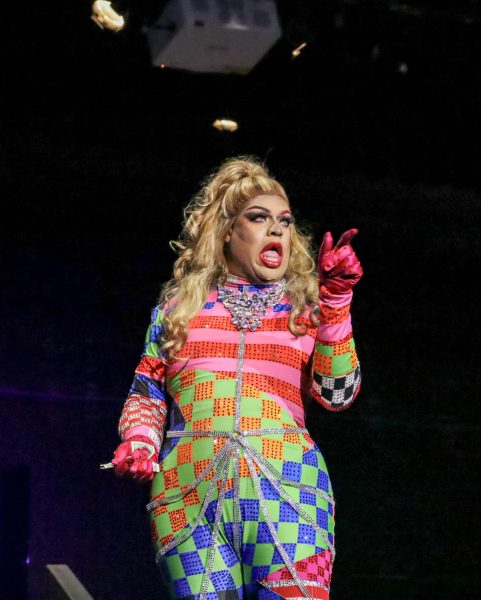 "We obviously value inclusion here at UCM, so I think hosting events like this really shows that," Dillon said.
While the crowd of 219 attendees was mostly students and community members, faculty members were also a part of the audience.
Wendy Geiger, Chair of the Department of Communication and Digital Media Production said, "I loved seeing how happy and excited the students seemed. That means a lot to me. I think that's why we have these student events."
The drag show has been held for 11 consecutive years on campus, this being the 12th year for the event.
"The drag show, in the past, has been funded with the student programming board funds, which is collected through student fees. It's one of the mandatory fees that students pay and so much is then appropriated to student activities," Beth Rutt, Director of Student Activities & Student Recreation & Wellness said.
According to policy, this fee is then divided out to sponsor programs across campus. As explained by UCM President Roger Best, at UCM, we have approximately 200 registered student organizations, and these organizations regularly host events, activities and speakers on campus. These entail a very wide range of social, political, religious and ideological perspectives.
"It is important for student organizations to be allowed to offer programming and critical that students be well-informed about differing perspectives while having the ability to discuss and even debate in a meaningful and respectful way alternative perspectives," Best said.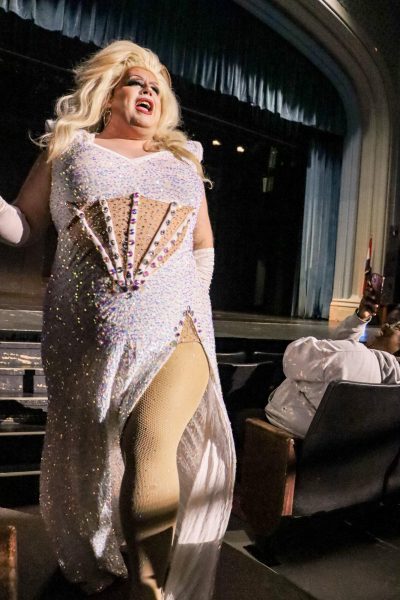 One of those programs, Mo's Activities Council, is an organization that allows students to apply for funding events that take place on campus. This year, Mo's Activity Council faced changes to the funding they received to sponsor the event.
"It was 11 days prior to the show that there was concern raised of how the university funds may be used to sponsor an event such as the drag show. So we would not want to place our students or the university in a situation that would cause harm to either party," Rutt said.
"We decided that since it was the 12th year, and the students had planned and organized the event that we would go ahead and hold the event, but with outside resources," Rutt said.
Anonymous donors from the UCM and Warrensburg community came together raising $2,000 to fund the drag show with 11 days' notice, prior to the scheduled performance.
"I had most of the funding secured within six hours," Rutt said. "The funding came about mainly because of the political climate that we are living within right now," Rutt said.
Many believe drag performers are facing scrutiny for their expression due to the political landscape surrounding the art. Performer, drag king, Southern Hell, said, "Sometimes I feel a bit scared performing. Even just walking on the street to the club feels a bit endangering."
Other performers share a similar fear. Drag queen, Florence Faye identifies as a transgender woman. She said she fears for her safety while performing, while still recognizing the importance of the art.
"I think it is very important," Faye said. "I'm here living my life and trying to be as truthful to who I am, and I would love to share that with everybody."