Mules' shooting earns them the 'W'
By JACOB WOERTHER
Sports Editor
(WARRENSBURG, Mo., digitalBURG) — The Mules' shooting made their Monday, Jan. 16, win over Missouri Western possible. They made 24-of-39 field goals and shot a season-high 69 percent from beyond the arc.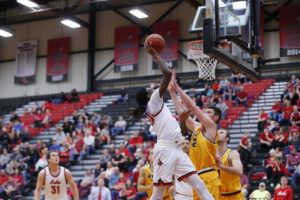 They also went 24-of-30 from the free throw line and recorded their second best free-throw percentage of the season at 61 percent.
Jakob Lowrance was responsible for four three-pointers and led the team with 19 points. In his first start of the season, DJ Richardson knocked down a pair of threes and finished the day with 16 points.
Marquiez Lawrence was valuable on both offense and defense. He notched his second double-double of the season with 13 points and a team-high 11 rebounds. He also ended the day with three blocks.
The Griffons came out of the gate strong with a 14-5 run, giving them their largest lead of the game with 14:11 left in the first quarter. A pair of Lowrance threes helped cut that lead down to three, but the Griffons immediately responded and drained two from beyond the arc to make the score 22-13.
With 2:31 left in the half, a dunk by Lawrence brought the Mules within one. Brad Woodson knocked down a set of free-throws to give the Mules their first lead of the game and make the score 34-33.
Central took a decisive lead coming out of half with a 16-5 run that put them on top 52-41. Missouri Western cut that lead down to seven thanks to threes from Cole Clearman and Aaron Emmanuel, but that was the closest the Griffons came to reclaiming the lead.
A three-pointer and a lay-up from Richardson extended the Mules' lead to 13. Two additional threes from Clearman kept the Griffons in the in the game, but the Mules held on to the end with 13-point victory.
The Mules head to Lindewood for their next contest Saturday, Jan. 21, with tip off scheduled for 3:30 p.m.