WHS students honored for academic excellence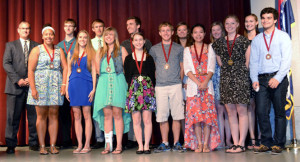 (WARRENSBURG, Mo.) — A total of 150 Warrensburg High School students were recently recognized during the Warrensburg Schools Foundation's 26th annual Academic Excellence Awards Banquet for reaching the top 15 percent of their graduating class.
Twenty seniors were recognized for reaching and maintaining this level all four years of high school. All students received a medallion, designed especially for this event. The banquet took place on June 19.
During the banquet, the students heard a speech from WHS alumnus, Casey Laws, a fifth-grade teacher at Martin Warren Elementary School. He compared excellence to fire. He reviewed how the students have reached their academic excellence and encouraged the students to avoid the natural decay of a fire by throwing more logs onto their academic fires.
The following students were recognized:
Seniors
Danielle Agueros
Christine Brister
Alexander Burson
Anastasia Chaky
Rebecca Chambers
Bene Clear
Devon Clements
Cierra Collins
Jamie Embrey
Shane Ewing
Yusr Ghozzi
Georgia Harris
Makayla Hill
Ethan Holland
Macy Hoyer
Dawson Jones
Kalina Jurkowski
Lauren Landwehr
Mathew Martinez
Ashley McClain
Nicholas Piontek
Madisyn Rhone
Nicholas Rizzolo
Rachel Scott
Spencer Tauchen
Conor Tenbus
Emma Thomas
Loan  Tran
Renee Warden
Donovan Wiss
Emily Wright
Zoe Yandell
Huiyi Yao
Abdala Yousef
Juniors
Asma Ali
Taylor Atkins
Alexander Bistline
Karyn Blunt
Kelly Blunt
Samantha Callaway
Bridget Cavuoti
Kirsten Dale
Stephen Deyo
Emily Docheff
Celine Doss
Jonathan Duhamell
Dustin Dye
Rebecca Gangemella
Lexington Healey
Savannah Heath
Emily Henson
Gabrielle Hill
Sang Jin Hyun
Alexis Kengor
Isaac  Kohl
Nathan Kreher
Alison Landrum
Samantha Loranger
Nathaniel Miller
Holly  Miller
Caeley Nuss
Julia Rankin
Cierra Reynolds
Benjamin Richner
Robert Richner
Jillian Samson
Jacob Sauther
Nicole Schneider
Kylie Schrader
Regan Slaughter
Jessica Tiller
Peter Voskovitch
Garren Wegener
Sophomores
Brett Ballard
Benjamin Bissen
Jordon Bowder
Ashleigh Burnett
Rhiannon Clifton
Brandice Coats
Kaci English-Keithley
Aulden Harris
Fareha Hasan
Megan Herzog
Thomas Hitchcock
Jacob Hodkins
Mason Janvrin
Margaret Kohl
Rachel Lindquist
Brittany Marr
Olivia Metge
Anna Mori
Michael Nimmer
Megan Otto
Jodi Pedersen
Jada Pickett
Paige Purvis
Riley Purvis
Susan Roberts
Noah Roush
Morgan Schierenbeck
Kathryn Schumaker
Courtney Simons
Cassandra Slana
Kathryn Smith
Lewis Smith
Kaitlyn Tallman
Rebecca Thessen
Shelby Webb
Noah Weyrauch
Jason Williamson
Janna Yousef
Freshman
Nisa Adams
Spencer Brown
Taylor Brown
Clara Castro
Fantejah Chong-Yockeman
Malina Colburn
Mikhayla Dempsey
Cassandra Farrell
Natalee Fitzgerald
Iyanna Foster
Katherine Gostomski
Cecil Grainger
Madison Green
Rhianna Grisdale
Roslynn Grisdale
Natasha Hammond
Amreen Hasan
Samantha Hood
Carolyn Kreher
Hannah Kueck
Lindsey Landwehr
Natalie Leuschen
Kathleen Long
Sarah Lubaroff
Alyssa Markham
Jordan Milne
Carly Othic
Shelby Palmer
Emily Perkins
Hally Piontek
Holly Rose
Bernadette Schrag
Abigail Scott
Asher Shivley
Jenna Shore
Elizabeth Smith
Sarah Swainston
Monique Vargas
Maxlyn Wilbanks
For more information regarding the Academic Excellence Awards Banquet or other Warrensburg Schools Foundation activities, contact Meridith Sauer at 747-7823.