Moira J. Gowland "Judy" Short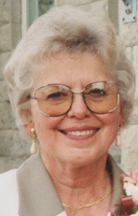 Moira J. Gowland "Judy" Short, 88, of Warrensburg, died Wednesday, July 24 at the Warrensburg Manor Care Center.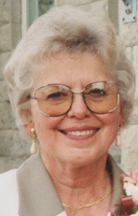 A funeral will be held at 3 p.m. Saturday, July 27 at Sweeney-Phillips & Holdren Funeral Home in Warrensburg.  Pallbearers will be Mark Juhl, Chris Juhl, Matthew Gortney, Steven Juhl, Kevin Juhl and Doug Short.
Interment will follow at Sunset Hill Cemetery.
The family will receive friends from 2 p.m. until service time Saturday at the funeral home.
She was born July 19, 1925, in Brisbane, Australia, the daughter of George and Mona (Cameron) Gowland.
At age 19, Judy moved to the USA with her husband George F. Juhl, who was in the U.S. Air Force.  Since then she has lived in Texas, Washington, Philippine Islands, Georgia, England and eventually Warrensburg.  Of all the places she lived, she said often that she considered Warrensburg her home.  "I've loved Warrensburg from day one," she said.  "People have given me chances here, I feel at home."
Moira came to Warrensburg in 1960.  She worked at Highland Gifts & Jewelry in downtown on Holden Street from 1962 to 1965.  She worked on the news staff at the Daily-Star Journal from 1965 to 1970.  Judy began working with the American Red Cross in April 1970.  When she took over the then part-time position, the chapter occupied one room at 103 Grover St.  It sponsored only two community service programs and had only a handful of volunteers.
When Judy retired, the Johnson County Chapter of the American Red Cross resided in its own two-story building at 208 Emerson.  In addition to its disaster relief program, which started in 1974, the chapter sponsored classes in first aid, CPR, swimming, AIDS education and parenting.  And it boasted a roster of more than 100 volunteers.
She married her second husband, Augustus L. "Jack" Foster, on Aug. 25, 1973, a retired professor from Central Missouri State University.  Jack Foster died Oct. 3, 1993.
In 1996, Judy married Norman Short, retired basketball and golf coach from the University of Central Missouri.  Norm and Judy traveled the USA playing golf, visiting their children, and during the winter months enjoying the beaches of Mexico Beach, Fla.
During her life, Judy enjoyed sewing and knitting for herself and family, as well as fishing and camping.  She was a member of the First United Methodist Church of Warrensburg and attended the First Presbyterian Church of Warrensburg.
Judy is survived by her husband, Norman, of the home; three daughters, Dianne Juhl Livengood, of Pleasant Valley, Mo.; Vicki Juhl Guier and husband, Ken, of Warrensburg; and Jodi Juhl Guth and husband, Tim, of Saint Marys, Pa.; two sons, Christopher R. Juhl of Tucson, Ariz.; and Mark J. Juhl, of Bendena, Kan.; one step-daughter, Pamela D. Short, of Columbia, Mo.; and one step-son, Douglas P. Short and wife, Kim, of Warrensburg; one brother, Donald Gowland, of Brisbane, Australia; 18 grandchildren, and 18 great-grandchildren.
She was preceded in death by her parents, one brother, Robert Gowland, one daughter-in-law, Sharon Juhl, in 1997, and one son-in-law, Daniel J. Lehane in 2002.
Memorial contributions are suggested to the American Red Cross, the Alzheimer's Association or Crossroads Hospice and all three can be left in care of the funeral home.