Mules name new assistant basketball coach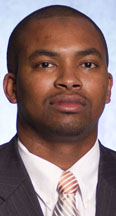 (WARRENSBURG, Mo.) – Central Missouri head basketball coach Kim Anderson recently announced the hiring of Nate Johnson as the new assistant coach for the team.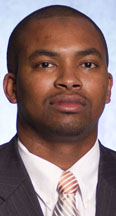 Johnson last year served as an assistant coach at the University of Missouri-Kansas City.
"We are excited to add Nate to our coaching staff," Anderson said in a news release. "He is a proven coach and recruiter at the junior college and Division I level as well as an accomplished player. We feel he will be a great addition to our program."
Before going to UMKC, Johnson was an assistant coach at Moberly Area Community College for three seasons, helping the Greyhounds to a pair of regular season conference titles, according to the news release. He got his coaching start as a graduate assistant for both the men's and women's teams at Trinity Valley Community College in Texas during the 2008-09 season.
"I am excited to join the Mules basketball program and the UCM community," Johnson said. "I look forward to working with our student-athletes and helping them develop both on and off the floor. I am well aware of the outstanding educational and athletic opportunities that UCM provides and I can't wait to get started. "
He started his collegiate career at MACC, where he earned second team All-American honors and led the squad to a fifth-place finish at the national tournament. He averaged 10.2 points, 7.3 assists, 3.0 rebounds and 3.1 steals per game and was named Region XVI Most Valuable Player.
He moved on to the NCAA Division I level and played his final two seasons at Florida State, where he started all 62 games during his career. As a senior, he led the ACC in assist-to-turnover ratio at 3.2 and assists per game at 3.8. He earned his bachelor's degree in social science from FSU in 2004.
After his college career, he played professionally in Europe for three years in Slovenia, Germany and England. He also played in the CBA from 2007-08.
Johnson is a graduate of Ruskin High School, where he averaged 25 points and seven assists per game as a senior, earning all-metro and all-district honors. He is the nephew of former Jennies basketball player and UCM and MIAA Hall of Famer Rosie Jones.