Comic book creators promote book at Hastings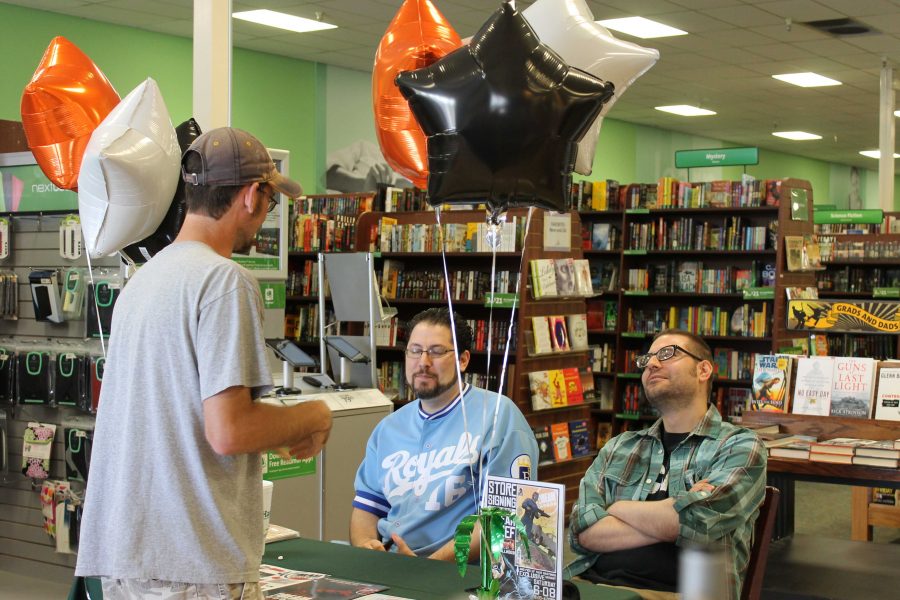 By ANDY LYONS (digitalBURG) – Customers at Hastings were treated to a visit from the creators of "Dream Thief" on Saturday. The duo spent the afternoon chatting with fans and autographing their Hastings Exclusive variant of the comic.
The visit was part of the deal that writer Jai Nitz and artist Greg Smallwood have with Hastings to help promote their series, which features visits to five Hastings locations near the Kansas City metro area. Fans stopped by a table near the entrance and had the opportunity to chat with the duo. During downtime, the two chatted with each other and Hastings employees about "Dream Thief," and other topics across the comic world. One fan talked to the creators for over 20 minutes about all things comics.
The pair does visits to comic book shops and Cons, such as Planet ComicCon, to interact with fans and promote their five-part mini-series, which is published by Dark Horse Comics. Thus far, the comic is getting a lot of positive feedback. Nitz said that one branch of The Fantasy Shop comic book store in St. Louis is even offering a money back guarantee and has had none returned.
The pair came together in 2009. Smallwood was working on a web comic titled "Villain" for the Zuda competition. He stuck a poster of his work on the local promotional corkboard at AstroKitty Comics in Lawrence, Kan. Nitz happened to see it and was impressed by what he saw.
"I'm literally walking by and there's a poster for the book 'Villain,'" he said. "The art was amazing. It was just a black and white photocopy of art from this comic I'd never heard of, I had never seen the art. Being on that board immediately meant a few things. A. It's local. B. Someone put it up here so who was it.
"It wasn't like something I saw in a magazine, this was in my local store in my hometown. I didn't know what it was, so I had to ask about it because it doesn't compute in my head. Joel, the guy who runs AstroKitty, said it was Greg Smallwood. He said Greg brought in a flier and he sometimes comes in and picks up his comics. What? This guy's really talented. Yeah, that's just Greg. I emailed him right after I got home. I dug on the Internet, I found him, I found his blog and cold emailed him. I said, 'I'm Jai Nitz; I'm a comic book writer. I saw your stuff at Astro Kitty, you're really good and I'd like to work with you.'"
Smallwood, who had worked several day jobs before doing freelance graphic work for an ad agency, was laid off and focused on the Zuda competition when he received Nitz' call.
"It was thrilling, it felt vindicating," Smallwood said. "At any point there are times where you feel like 'aw, no one cares about my work and no one appreciates me' and an actual professional was saying this (artwork) was great."
The pair worked on "Dream Thief" in 2010 and pitched it to several comic publishing companies but didn't have any takers. Nitz said that what they got in return was a way to streamline their comic to make it into what it is now.
Smallwood moved to Lawrence in 2010 and the two got to know each other on a more personal level, adding a better sense of synergy to the project. The more comfortable they were with each other, the more they were willing to give each other suggestions, which led to the creation of the current version of "Dream Thief."
The pair submitted the fully completed first issue with cover art from legendary artist Alex Ross to pretty much every company except Dark Horse, thinking the company wouldn't be interested. After not getting any positive responses they took a chance and submitted it anyway.
Nitz said that they sent it in January of 2012 and heard back from Dark Horse editor-in-chief Scott Allie in February. After a frustrating wait, they finally got a contract in September.
The comic itself is a solid setup to the mini-series. It starts a little slow, like a novel, but picks up and throws the reader into the action. It follows John, a deadbeat stoner who is trying to save his relationship. His carefree nature mixed with some "northern super mix" leads to him stealing some priceless aboriginal art from a museum and waking up next to a corpse after a night out with his friend Reggie.
Since the storyline is setup more like a novel, the action doesn't pick up until about midway through the first comic. However, it beautifully sets up the series and hooks the reader. It's one of those "oh-my-god-what-happens-next" types of comics that will definitely keep readers interested and guessing what's to come.
The creators said they hope for up to 60 issues. The additional issues, if the team at Dark Horse wants it, could run as long as eight years and would require additional artists.
"There are lots of different factors that go into it," Nitz said. "Right now we have good, really good, critical buzz. The comic industry has been very kind to it. The reviews have been very good. That's great. That's one component. Another component, the biggest component, is sales. They don't care what the reviews are if it sells well. We're selling well enough that it would be profitable to continue."
If it does go to extended issues, both Nitz and Smallwood agree that it would take another artist for multiple reasons, including timeframe to complete the work, and Nitz said he didn't want Smallwood to get pigeonholed by his first project.
Currently, the deal with Dark Horse is for five comics, which will be released monthly with the second issue due out June 19.
The pair has enjoyed touring the Midwest to promote "Dream Thief," hosting their first signing at AstroKitty comics in Lawrence, Kan.
"The local scene is the biggest benefit of AstroKitty," Nitz said. "The owner tries to build the community. There's super nerd night at a bar in town tonight that has gaming and comics. People are just hanging out and drinking. People come from Topeka and Kansas City for this because there aren't any bars that do this. He really brings in the community. We get to be the royalty of the nerds at the event."
"The local heroes," Smallwood added.
To view the interview with the creators in its entirety, go to marchionofchaos.wordpress.com.
Andy Lyons is an employee at Hastings and managing editor of the Muleskinner.