Brian Ray Van Meter, 18, of Kingsville, Mo., died Friday, June 7.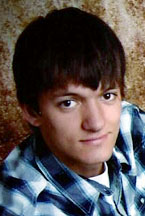 A funeral will be held 1 p.m. Monday, June 10 at the Kingsville Baptist Church under the direction of the  Ben Cast & Son – Wood Funeral Home in Holden.
Interment will be at the Kingsville Cemetery.
Brian was born May 15, 1995 in Blue Springs, Mo., a son of Jay and Tracey (Gudde) Van Meter. He graduated from Kingsville High School in 2013. He was a young farmer in the area. He also worked at the Kingsville Livestock Auction. He loved farming and working on equipment.
Survivors include his parents, Jay and Tracey Van Meter; one sister, Aubrey Van Meter; paternal grandparents, Ted and Beth Van Meter, of Kingsville; maternal grandparents, Jim and Kay Gudde, of Kingsville; paternal great-grandmother, Elizabeth Van Meter, of Holden, Mo.; maternal great-grandparents, Sam and Doris Raber, of Holden; and Betty Gudde, of Kingsville; one uncle, Brandon Gudde and family; one aunt, Amy Morrison and family; and numerous family members.
He was preceded in death by his paternal great-grandfather, A.H. Van Meter; maternal great-grandparents, Neal and Edna Callahan; and J. Franklin Gudde.
Pallbearers will be Daylon Duncan, John McLennon, Austin Van Meter, J.C. McLennon, Derrick Pinson, and Gene Callahan.
Honorary pallbearers will be family, friends and the community.
Memorial contributions are to be left to the Brian Van Meter Memorial Fund.
Story continues below advertisement