Dorothy Louise Burden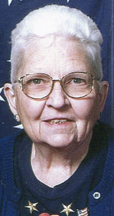 Dorothy Louise Burden, of Warrensburg, 84, died June 6 after two years at the Warrensburg Manor Care Center.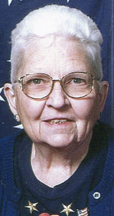 A memorial will take place at a later date.
She was born Dec. 30, 1928, in Tyler, Texas, the daughter of Basil Ural and Lola Louise (McClung) Larison. She met her former husband of 30 years, Joseph Walter Burden, in Tyler at a church social for the military trainees. Upon Joe's return from Japan, they married in 1946 and Dorothy accompanied him to Warrensburg after their marriage. He preceded her in death in June, 2003.
They had four children, who survive, Cecelia Cameron and husband, Don, of Coppell, Texas; Gary Burden and wife, Gloria, of Holden, Mo.; Dana Burden and wife, Patricia, of West Des Moines, Iowa; and Rose Martin and husband, Bob, of Tyler. Dorothy is also survived by six grandchildren and three great-grandchildren. Dorothy's two brothers also survive her, Harold and Bobby Larison.
Dorothy was preceded in death by her parents and one sister, Mary West.
Dorothy worked in the Office of Business Administration at the University of Central Missouri for 28 years prior to her 1994 retirement. She was a 60-plus-year member of the First Baptist Church of Warrensburg and the Magnolia Baptist church. She participated in many of the First Baptist's Golden Age group activities.
Her hobbies included reading, vegetable gardening and her houseplants, water aerobics and travel, both in the U.S. and internationally. She especially enjoyed family visits.
Memorial contributions are suggested to the First Baptist Church Golden Age group or Crossroads Hospice. Both can be left in the care of Sweeney-Phillips & Holdren Funeral Home in Warrensburg.