Thousands gather at Union Station for celebration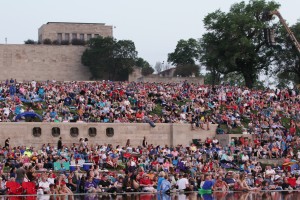 By ANDREW MATHER
(KANSAS CITY, Mo., digitalBURG) – The 11th annual Bank of America Celebration at the Station took place Sunday evening at Union Station and the Liberty Memorial in downtown Kansas City.
Thousands of people, from children to senior citizens, attended this event. The event opened with the Kansas City Symphony performing "The Star-Spangled Banner."
Just before the intermission, the symphony encouraged the audience to participate in a feature titled "Sing-Along, America!" This featured familiar songs, such as "Yankee Doodle," "America (My Country 'Tis of Thee)," "You're a Grand Old Flag," and "America the Beautiful."
After the intermission, the Kansas City Symphony returned with special guests Oleta Adams, a vocalist, and members from the MusiCorps. The symphony, led by the MusiCorps, performed a rendition of Cohen and Bloom's "Hallelujah." Oleta Adams sang the lyrics.
MusiCorps is a rehabilitation program at Walter Reed National Military Medical Center, where severely wounded service members are paired with accomplished musicians. MusiCorps aids in the recovery of war-related trauma, including but not limited to PTSD, according to an article in the show program.
A fireworks display took place over the Liberty Memorial at the end of the performance.