Anna June Tate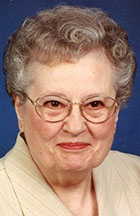 Anna June Tate, 82, of Warrensburg, died Wednesday, May 22 at the Country Club Care Center surrounded by her children.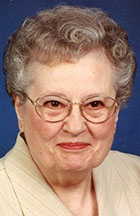 A funeral will be held at 2 p.m. Saturday, May 25 at Sweeney-Phillips & Holdren Funeral Home in Warrensburg with the Rev. Pete Beard officiating. Pallbearers will be Carl Hutcherson, Steve Thoms, Chris Stryker, Jeremy Tate, Richard Tate, Jay Stephens, Michael Porter and Chad Currence.
Interment will follow at Warrensburg Memorial Gardens.
The family will receive friends from 1 p.m. until service Saturday at the funeral home.
June, as she was known by most, was born on June 30, 1930, on a farm near Neal, Kan., to Charles Wesley and Julia Ann Wilcox Ball, number eight of nine children. She married Willie Lee "Bill" Tate on Oct. 16, 1949, and moved to Warrensburg. Bill preceded June in death on April 21, 2004.
She graduated from Humansville High School, in Humansville, Mo., in 1948 and then attended Draughon's Business College in Springfield, completing a one-year secretarial/accounting course. June worked as a homemaker and home-based bookkeeper while her children were small. In 1968, she became secretary for the dean of the School of Business at Central Missouri State College. In 1973, she went to work at Central Missouri Credit Union while it was operating in a house near the university. June retired as a vice president of the credit union in August 1986.
Bill and June moved their church memberships to the First Baptist Church of Warrensburg shortly after they were married. June taught preschool Sunday school, Vacation Bible School and sang in the sanctuary choir for many years. She had been a member of the Women's Missionary Union, Bell Choir, Kitchen Band, Senior Adult Choir and Golden Agers. June had participated in Missouri Extension circles and also helped with establishing the Cardinals 4-H club in 1962. She enjoyed life, singing, playing the piano, cooking, sewing, family and friends.
She is survived by four daughters and one son and their spouses: Carol June and Kent McClellan Hutcherson, of Eldon, Mo.; Joyce Marie and Dell Edward Stephens, Betty Ruth and Billie Carl Thoms, Herbert Dean and Tina Darlene Tate, of Warrensburg; Julia Lea and Douglas Kent Stryker, of Pleasant Hill, Mo.; nine grandsons, five granddaughters, 11 great-grandsons, nine great-granddaughters and another on the way; one brother and his wife, Jesse and Clara Ball, of Raytown, Mo.; and a host of nieces and nephews.
June was also preceded in death by her parents, an infant son, David Lee Tate, three brothers, Elmer, Leo and John Ball, and four sisters, Nova Billups, Marian Brown, Edna Larcom and Cleo Springer.
Memorial gifts are suggested to the First Baptist Church Building Fund and can be left in care of the funeral home.