New face in the comm department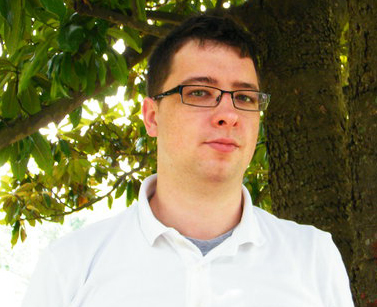 Story by AMBER WARD, for The Muleskinner—
With the field of communication rapidly changing, the department of communication at the University of Central Missouri has felt the necessary urge to bring on a new faculty member. Eric Newsom will join the staff in the fall as a new multimedia professor.
Newsom grew up in Gastonia, N.C. He developed a love of journalism early on in life.
He majored in English and professional writing at Western Carolina University before he discovered his interest in the growing and dynamic field of communication.
With his love of communication comes his love for teaching.
"I wholeheartedly believe that communication is foundational to the human experience," Newsom said. "Becoming better speakers and listeners, better authors and audiences, and better participants in the dialogue of our culture makes us better people."
Newsom has a resume that shows all his qualifications, as well as his experiences.
He has earned a bachelor's and master's in English, and he is finishing his doctorate this spring in communication and rhetoric. He also has many accomplishments in the professional field of communication.
Newsom said he is fascinated by storytelling, so it is no surprise that he was a reporter for the Gaston Gazette.
His love for storytelling becomes evident when one hears about his reporting. Newsom wrote two to three articles daily for the newspaper's hometown section.
He has even worked with award-winning author Greg Rucka, who is a short story and nonfiction writer, as well as a comic book creator.
He has written many comics, which include many familiar characters such as Superman, Batman and Wonder Woman, just to name a few.
For his work with Rucka, Newsom relied on a more recent form of mass media: web pages.
Newsom designed an interactive, social media website to help promote Rucka's science fiction story, "Lazarus." Newsom also developed a website for a webcomic that has 20,000 weekly readerships.
On top of all this work, Newsom also has experience with public relations for Rucka. He created an alternative reality campaign to promote Rucka's "Crime Bible: Five Books of Blood" through social media sites.
In addition to his many journalistic accomplishments, Newsom also has teaching experience.
He has taught many university level courses, including Intro to Visual Communication and Computer Interaction at Rensselaer Polytechnic Institute, as well as English composition classes for the University of Western Carolina.
Newsom said he is enthusiastic about the new metamorphosis of the communication program here at Central.
"I appreciated the direction in which the communication department and, more specifically, the digital media production program are heading," Newsom said. "They have some savvy faculty who are taking a look at the current state of media and of the environments their students will be working in and, in my opinion, they are asking the right questions about how to structure curriculum and courses to meet their students' needs. More generally, I appreciate that this seems to be a trend across the university – a continuing focus on students."
He said he is eager to help shape the communication curriculum at UCM by providing students a "compass" that he said he thinks is necessary to keep up with the new technology and mass media.
Newsom said one of the things he is most looking forward to is the student population.
"When I interviewed for the position, I came to campus and had some positive interactions with students here," Newsom said. "So far, I've only seen glimpses of the things they're working on, so the thing I'm most excited for is being able to come in, meet more UCM students, learn what their interests and goals are, and figure out how best to plan my courses to support those goals."
Newsom said he is very open to meeting students' needs through student-faculty interaction.
With the field of communication rapidly changing with the development of technology, Newsom comes with the hopes of helping to establish a good curriculum for students.
With the hiring of Newsom, the communication department should see some new teaching techniques introduced this fall.