PR majors practice profession on campus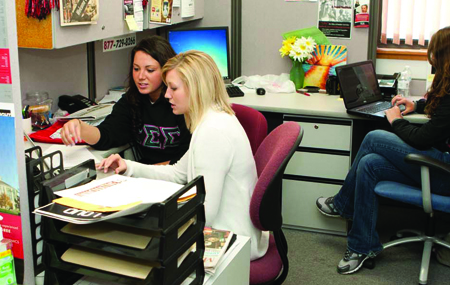 Story by SHELBY FLYNN, for The Muleskinner—
 For public relations majors, there is an opportunity to gain experience in their desired profession while they are still in school.
The Innovative PR firm on the University of Central Missouri campus is a student-led organization housed in University Relations, dedicated to creating full PR campaigns for organizations and departments on campus.
A great deal of the work involved in IPR is hands-on, having students work with actual clients who are in need of exposure. The hopes of the firm are widespread.
"We have goals as a firm, but we also have goals for each of our clients," said account coordinator Nicole Cooke. "As a firm, we try to give students a professional experience to add to their portfolios and to help prepare them for a career in PR, with the convenience of being on campus. As for our clients, that varies depending on the client."
Danielle Myers, the graduate assistant and manager of IPR, said right now they only deal with clients on campus, but hope to eventually branch out to Warrensburg businesses and surrounding communities.
In order to expand their client base, IPR launched a new website Tuesday. Since IPR was started in January 2010, they haven't had a website outside of the UCM website. "Having our own website really enhances the professional presence of the student PR firm.
We thought it would be great to have our own space online to show who's working in IPR this semester and give a little overview about them," Myers said. "When most people hear about IPR, they don't really understand the concept. A lot of colleges don't even have a student PR firm, so for UCM to have a student PR firm really makes the PR program a lot more interesting to perspective students."
The website showcases those working for IPR, as well as alumni and previous and current work the firm has produced.
Myers said there are nine students working at IPR, including herself, but they are open to more willing participants. Being in IPR is not mandatory for those in the PR program, however, it is highly recommended to apply for a position in the firm.
"You get to work right on campus with your PR peers, as well as students and employees of UCM, and you gain a lot of knowledge and materials for your portfolio," Cooke said. "It's also a lot of fun."
Next week, IPR is launching a campaign they created for their client, Christian Campus House.
The campaign is for an event called Something to Eat, a meal packaging program to help feed hungry people all around the world. Every meal only costs $1.50 to be assembled and will feed up to six people. Sodexo meal swipes can also be used to purchase meals.
The event will be April 8-12 in front of Elliot Union from 9 a.m. to 8 p.m.
Another client for IPR this semester is Earth Day 365, the university's week-long Earth Day celebration. Earth Day 365 takes place April 22-27.
Various activities, such as the Haute Trash fashion show, a luncheon with organic and sustainable recipes served and yoga on the president's lawn are included on a long list of festivities. IPR is playing a vital role in these events. Their main objectives were to maintain both of the campaigns' online presence, event coordination and media relations.
This past semester, IPR has proved just how professional and outstanding their work is. At the 28th Annual Educational Advertising Awards, sponsored by Higher Education Marketing Report, UCM won the top honor for Total PR Program.
IPR received this award for the promotional campaign they created for the 2012 Show Me Justice Film Festival. Three IPR students worked with University Relations staff members and the department of communication and sociology to coordinate an advertising plan.
Their objective was to reach out to relative audiences through social media, news releases and distribution of print material.
Perhaps there is no one prouder of IPR for this accomplishment than Jeff Murphy, assistant director of University Relations/Media Relations and the co-supervisor for IPR. "This was an outstanding collaboration between professional staff members, IPR students and faculty members in the department of communication and sociology," Murphy said. "IPR did a wonderful job planning and executing the promotional campaign, and student members were visible at many of the film festival events. I think it was a great learning experience for them, and it's good to see the university being recognized for something in which they made such a significant contribution."
For more information on IPR, visit ucminnovativepr.com or contact Myers at [email protected]. For more information on Something to Eat, visit ucmo.edu/SomethingtoEat, and for more information on Earth Day 365, visit ucmo.edu/EarthDay365.