Snow removal costs university $65,000

Story by ELLEN BECKER, Managing Editor—
While students enjoyed their snow days by going sledding, building igloos and snowmen, and putting off schoolwork for a few more days, UCM employees were busy clearing the massive amounts of snow from campus.
The university's grounds, custodial and facilities staff worked many long hours throughout the days and nights to keep the campus operational following the snowstorm.
"The top priority was to keep UCM's sidewalks, roadways and parking lots open for students to access their residence halls, the dining halls, the library, the university Union, Student Recreation Center and the main campus classrooms in order to reopen the campus," said John Merrigan, chief financial officer at UCM.
Mechanics repaired and kept the sidewalk plows and other snow removal equipment operating, and the grounds crew worked in 12-hour shifts to plow the sidewalks, streets and parking lots.
The custodians shoveled the walkways and steps that access the buildings, and employees from maintenance, projects and set-up's, who normally do not perform grounds activities, volunteered and assisted with the snow removal efforts as well.
UCM also used private contractors to help remove snow from campus. "The city of Warrensburg was also quick to respond when we requested their assistance to clear certain city streets that border the university's campus," Merrigan said.
Merrigan said, snow removal efforts for last week's snowstorm cost the university approximately $65,000 in additional expenditures, which was comparable to the blizzard in 2011.
Funding came from the university's institutional contingency budget.
President Chuck Ambrose said the main difficulty was the sheer volume of snow that had to be removed.
There was so much snow piled up from the first snowstorm, that the plows had nowhere to put the snow from the second storm.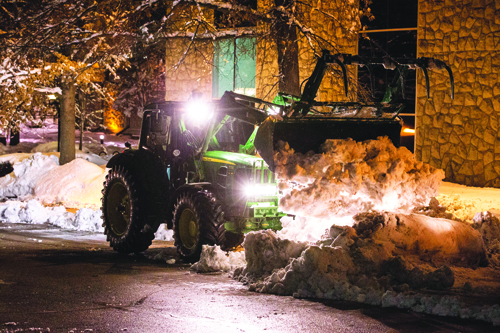 Some of the snow was loaded into trucks and taken to various sites, such as the parking lot of the former Southeast Elementary and a parking lot on the corner of Pine and Warren streets. Snow was also dumped into a lake near Pertle Springs.
"Our employees made a tremendous effort," Ambrose said. "They went above and beyond in hours and labor, and did a great job."