Jens bowler makes junior national team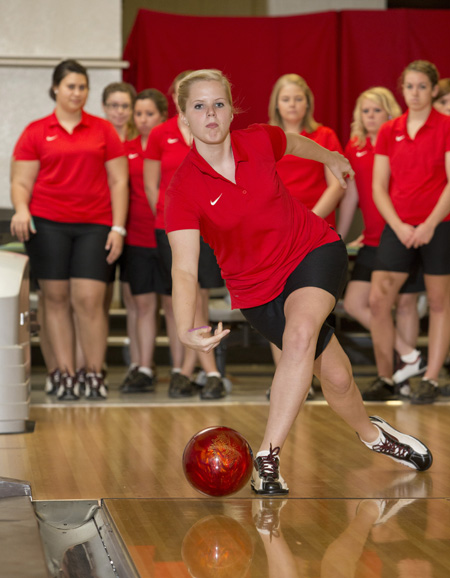 Story by JASON STRICKLAND, Sports Editor—
Jennies bowling freshman Mary Wells will have a chance to compete internationally, as she was an at-large selection to Junior Team USA earlier this month.
"It's a big accomplishment, but it hasn't really set in that I'm actually on the team," Wells said.
Junior Team USA is a 12-member team with some of the best bowlers under 21 in the nation. She was selected for her performance at the United States Bowling Congress trials.
Wells competed in the summer trials, but was not selected after her losses in match play. The winter trials earlier this month was a singles format, so her overall score contributed to her at-large selection.
Wells said she treated making the team as a bonus, since she did not expect to be selected going into the trials.
Holmes was not surprised about Wells' performance and selection because of her skills.
"She has a great mindset to be able to play the game, and some of the advanced stuff that she can do is pretty neat to see for somebody at her age," Holmes said.
Wells has been around bowling her entire life. Her mom, Julie Wells, was a member of two national championship teams at West Texas A&M in the '80s, and was Mary's high school coach at Westerville Central High School in Westerville, Ohio.
Wells has never traveled outside the country, but could get the chance this summer. The PABCON Youth Championships is in the Caribbean in July. Four of the team members will compete in the event.
The second event scheduled for the team is the Tournament of the Americas in Florida, where two members will compete.
Wells is the seventh Jennies player to make Junior Team USA, and Holmes said he has just as much confidence in her ability as previous members.
"I think Mary has as much ability and as much opportunity to compete at the international level as any of the other players that we've had here," he said.
Previous Jennies who have made the team are Amber Gazuerde ('00), Amber Lester ('01), Erin Landford ('04), Bryanna Caldwell ('06-'07), Tina Peak ('07) and Natalie Jiminez ('12).