Jennies Bowling adds two more signees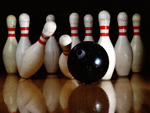 (WARRENSBURG, Mo.) – The Central Missouri Jennies Bowling team has added two more signees to their 2012 class. Jennifer Potts and Breanna Francis both signed letters of intent to join the Jennies' program.
"We've added great depth and versatility for 2012 and beyond with the signings of Jennifer Potts and Breanna Francis," said UCM Bowling Coach Ron Holmes. "We are very excited about adding Jennifer and Bree to our program. Bree provides us another high quality left-handed player and Jennifer brings a very energetic, hard-working personality to the squad."
Potts, a native of Smithboro, Ill., was the 2012 Illinois Star of Tomorrow and 2011 Illinois YST Bowler of the Year. She was a two-time Illinois Youth Tour Champion and a three-time gold medalist of the Keystone Junior Bowler's Tour. She also finished fourth at the 2012 Illinois All-Star Shootout. She has a career-high game of 279 and a 737 series with an average of 189 on elite-level conditions. She is also an elite-level trap and skeet shooter earning multiple awards for Mulberry Grove High School.
Francis is a native of Webster, N.Y. and was a multi-sport athlete at R.L. Thomas High School. She led her team to a first place finish at the 2012 New York High School Class A Sectional Championships while claiming the individual title. She has a career-high game of 278, a high series of 702 and a high average of 218. Francis also lettered in softball as a centerfielder and leadoff hitter. She will also play softball at Central Missouri.