Track and field to host meet Friday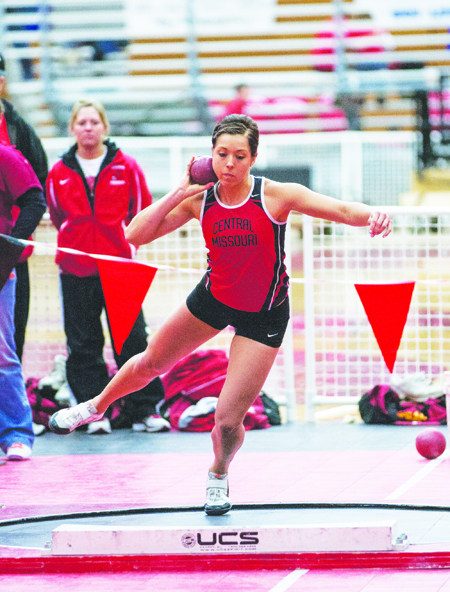 Story by Alex Agueros, for The Muleskinner—
The Mules and Jennies indoor track and field teams host the UCM Invite Friday, and will face off against conference rival schools Emporia State, Pittsburg State and Southwest Baptist.
The meet comes with the teams having officially started practice on Monday. This time-crunch means the meet will provide unique insight on the team's work ethic, specifically how each athlete trained individually over a four-week break.
"We expect our athletes to train independently on breaks," co-head track and field coach Kirk Pedersen said. "Our distance runners typically don't have much success unless they're involved in year-round training. (For) throwers, the weight room is key for them. We expect our athletes to train over Christmas and come back ready to go."
This week, co-head coach Kip Janvrin is concerned with mechanics-based events such as pole vault, as these skills are near impossible to practice outside the facility.
"Some of these kids I haven't seen since December 7th," Janvrin said. "That's a very long time to be away, especially for the technical events. You can run and you can lift, but pole vaulting or high jumping, I know, hasn't been done over break."
Friday's meet may not see overly impressive results from the team, but Pedersen explains the meet is part of a longer process.
"I wouldn't expect great things," Pedersen said. "One, because it's our first meet. Two, I would expect us to be rusty even if we were training."
In the spring, the indoor season goes until the middle of March, then the outdoor season begins at the end of March and goes until the end of May, so Pedersen knows the athletes may not be at the top of their game right now.
"It's a long spring for us, and I wouldn't want or expect our athletes to be at peak level this week," Pedersen said.
The meet will feature athletes with several seasons of indoor track experience, while others will enter Friday with zero experience. Janvrin is eager to watch the latter group.
"I'm more concerned with our freshmen," Janvrin said. "Our veterans, they understand that what we do later in the year is more important. I haven't seen a lot of these new kids compete. For me, I want to get them on the track two to three times and see how they handle certain situations."
Janvrin understands Friday's meet is just the first step in the building process.
"It is a school meet, but in the grand scheme of things the meet isn't what's important," Janvrin said. "I need our kids to train and work hard, and make progress towards our future."
The UCM Invite begins Friday at 3 p.m. in the Multipurpose Building. A full schedule of events can be found at ucmathletics.com.