Honoring UCM's Heritage
Mildred "Millie" Barnes Still Blazing Trails for Women in Sports
New York Times Best Selling Author Andrew Maranissvisits schools all over the country to talk about his books. OnOct. 11, Maraniss came to the University of Central Missouri for UCM's Author Talk. He discussed his recently released book "Inaugural Ballers", which walks readers through sports history through the journey of UCM's Women's basketball coaching legend Mildred "Millie" Barnes.
"The book has meant something to me and the players which is very gratifying," Maraniss said. "Millie's story is so important within sport history as she is one of the most respected administrators in all of the women's athletics. She literally wrote the book on how to play five-on-five women's basketball."
After years of research for "Inaugural Ballers", Maraniss united with Barnes at UCM's Author Talk. For the 50th anniversary of Title IX, the federal civil rights law that prohibited sex-based discrimination in education and activities, Maraniss's book retells the story of the first U.S. Women's Olympic Basketball team and the people who paved the way for women's sports. Barnes was part of that journey as she is credited with laying the foundation for women's athletics.
"I hope that I had some positive impact on players to help teach them lessons that they can carry on throughout their life," Barnes said.
During her time at UCM, one of Barnes' many accomplishments was bringing the first U.S. Olympic Women's Basketball team to the UCM campus for tryouts and training at UCM's Garrison Gym. Later that same year, the first U.S. Olympic Women's Basketball competed at the 1976 Olympics, which would be held in Montreal. The 1976 US Women's Basketball team would earn the 1976 Olympic Silver Medal in Women's Basketball.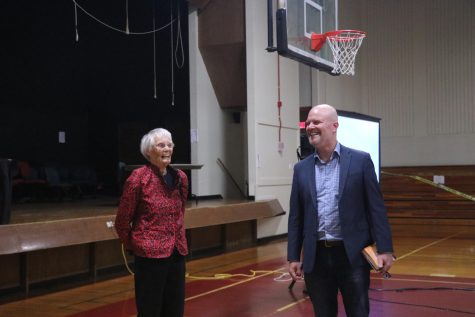 "My fondest moment of 1976 was enjoying the team practices," Barnes said. "Those players practiced so hard and were so determined. I looked forward to how they melded together as a team. I also thought about how far away they were from their home and then seeing their family and friends in Montreal was a marvelous experience."
During the Author Talk, UCM's women's basketball, women's bowling, and women's soccer teams all attended the event. UCM's Communication and Digital Media Production Department facilitated the evening's Author Talk, which was aired on CSPAN. Two of UCM Muleskinner's students asked the guests questions and permitted the audience the chance to ask questions. Barnes gave a message to all female athletes to keep up their academics, practice hard, listen to coaches and teammates, eat right and train the right way.
Junior guard Olivia Nelson attended the event with her team. Nelson said having a big person in the basketball community was an exciting moment for them to see because she had always heard about them but not in person.
"I think it was a great opportunity and the whole basketball team was excited that we were able to come and hear from her and it was a good time," Nelson said. "I think this will help us be more motivated this year by not taking anything for granted in the way of the opportunity we have."
Barnes was a multi-sport elite athlete, playing many sports including basketball, tennis, lacrosse, softball, and field hockey.
In "Inaugural Ballers" Maraniss walks readers through how she earned All-American honors for 12 consecutive years. Barnes later competed nationally in tennis and badminton and was drafted by the professional baseball team. Barnes served as a chair of the U.S. Olympic Women's Basketball Committee from 1974-1976. Barnes coached Jennie's basketball team from 1971-1980 with an overall record of 156-63. She retired from UCM in 1991 as professor emeritus of physical education which followed a 22-year service at the university.