Voter Engagement Matters – The American Democracy Project
Upcoming Election: Midterms: November 8th, 2022
Written by Lindsey Burns, UCM ADP Student Campus Coordinator
November 7, 2022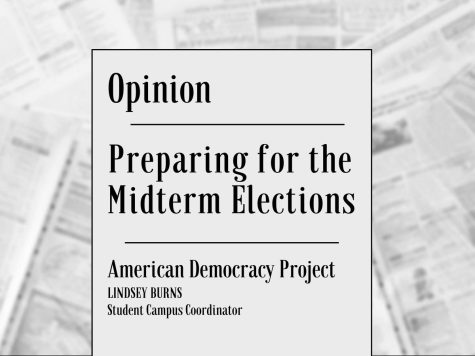 The upcoming election is rapidly approaching, and voter engagement and civic participation is as important as ever. The midterm election will take place November 8, 2022. This article will delve into the importance of voting, relevant dates and information related to voter registration and absentee voting, as well as pertinent guides to preparing for election day. 
  The best source of information our office can recommend in preparing for the election is visiting the Secretary of State's website to have access to all necessary forms, information about what you will see on the ballot, dates, valid IDs', and so on. Voter engagement is essential to allow the progress of the nation to flourish. Our campus prioritizes "Education for Service," and the best way for us as students to exemplify this sentiment is through showing up to ensure each and every one of our diverse perspectives and voices are heard through the ballot. Change is a product of tangible action, change can only occur if we allow ourselves to be informed and engaged citizens. To consolidate the most pertinent information for voter registration and absentee ballot requests, as well as notarization. 
  Voter registration forms in the state of Missouri were due by October 12, 2022, The American Democracy Project was able to mail out 142 either voter registration forms or absentee ballot requests thus far. Absentee ballot requests must be received by the local election authorities by October 26, 2022. The ballots will then be mailed to you, you will fill them out, and then visit ADM 214 to have your ballot notarized and mailed to the local election authorities to be received by November 8, 2022, Election Day. If you have any questions, please contact [email protected].
  The American Democracy Project strives to allow students an opportunity to become engaged citizens, and to learn about the political sphere, through a nonpartisan lens. We host a constitution week every year, this year's theme being "An Equitable Approach to the Constitution." We hosted events that prioritized honoring diverse perspectives, such as the keynote speaker, Dr. Annette Gordon Reed Pultizer Prize winner and author of Juneteenth. We will continue to host events each month that promote civic engagement and awareness, we look forward to continuing to partner with organizations and departments on campus to give students the opportunity to broaden their horizons. Don't miss an opportunity to have your voice heard in this upcoming election, November 8, 2022!