Tigers place fifth in Kearney tournament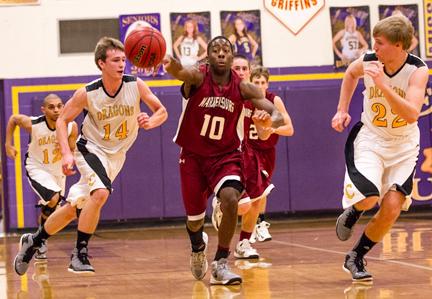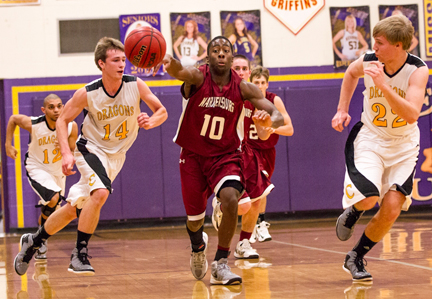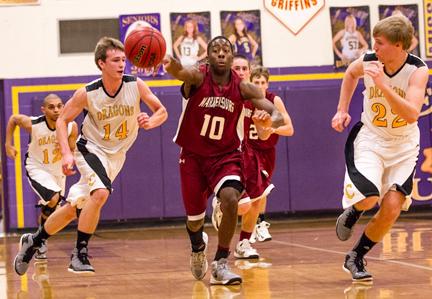 By JASON STRICKLAND
(KEARNEY, Mo., digitalBURG) – It wasn't easy, but the Warrensburg Tigers came away with a 2-1 record in the Kearney Bulldog Classic this past week.
On Friday night, the Tigers beat the Savannah Savages 57-55 to claim fifth place in the tournament. Warrensburg led by as many as 19, but a late run by Savannah made it a nail-biter at the end.
With a little more than three minutes left in the game, Savannah junior guard Bert Ernst hit a three-pointer to make it 52-42. A couple of Tiger turnovers got the Savages within five with 53 seconds left. Then Ernst made another three to make it 55-52 with 14 second left.


Ernst stole the ensuing inbound and made one of two free throws to make it a two-point game, but junior guard Dakota Jones made a mid-range jumper with 10.5 seconds left, and Ernst made a two-pointer and the time ran out before Warrensburg inbounded the ball.
Ernst got all of his team-leading 12 points in the second half, while Jones led all scorers with 22 and was named to the All-Tournament team.
Warrensburg had a 23-6 lead after one quarter, as they stole the ball seven times in the period. At halftime it was 34-20 Warrensburg, and it was 44-29 after three quarters.
"We defended very well and our defense was our best offense to start the game," said coach Chris Nimmo. "In the second half we just kind of quit playing defense, and we were a little bit careless with the basketball…I'm happy to hang on, I just wish it wouldn't have been that close."
To begin the tournament, the Tigers lost to Cameron 50-41 on Tuesday, as they were unable to finish a late comeback after being down by 18 at halftime. On Thursday, the Tigers beat Benton 59-42 to advance to the fifth-place game.
Kearney and Lafayette will play for the tournament championship Saturday night at 7 p.m.
Jones scored 69 points in the tournament, while junior guard Kye Denker scored 28 (14 versus Savannah).
The Tigers return to action Thursday night as they host Hogan Prep Academy. The JV team will play at 6 p.m. and the varsity game will follow.
"They'll be athletic like always," Nimmo said. "They'll have lots of guys who can get to the rim. We will have to handle the ball and make sure we hit good shots because we think we have guys who can cause them a little bit of problems getting to the rim."