Sex Positivity Replaces Shame with Pleasure
Sex positivity is the idea that people should have the opportunity to explore and learn about their sexuality and gender without shame; this includes the physical, mental and emotional health aspects of sex.
  Sex positivity replaces shame with pleasure and judgment with freedom. Sex positivity has existed since the 1920s, starting as a movement urging for more information regarding reproductive health, abortion and pregnancy for women. Today, the term has been used to destigmatize sex and to challenge patriarchal and heteronormative assumptions. This is an attitude that views sex as normal and a fundamental part of one's identity. Sex positivity welcomes honest and open dialogue and sex education that is inclusive of all gender identities, abilities, ages, races, sexual orientations, and relationship arrangements.
  One of the focuses of sex positivity is the importance and need for safety and healthy practices when it comes to being sexually active. This can include enjoying sexual pleasure and having access to reproductive health care, which includes knowing how to avoid unintended pregnancy, minimizing the risk of sexually transmitted infections and accessing treatment if needed. Read this story online to find links to resources. 
  Another aspect of sex positivity is the way people think about sex. Sex positivity comes in many shapes and forms because everyone is unique with different perspectives, experiences and desires. Giving oneself permission to rewrite their sexual script can be uplifting because it establishes clear self-sexual boundaries that enable them to communicate. Rewriting one's sexual script means focusing on desires that fulfill pleasure , rather than looking at sex from what you have been told it is meant to be.
  Sex positivity allows oneself and others the freedom to talk authentically about sex, having open and honest conversations with partners about sexual wants and needs. In doing this, it also creates a space for others to engage in consensual sexual behaviors without judgement.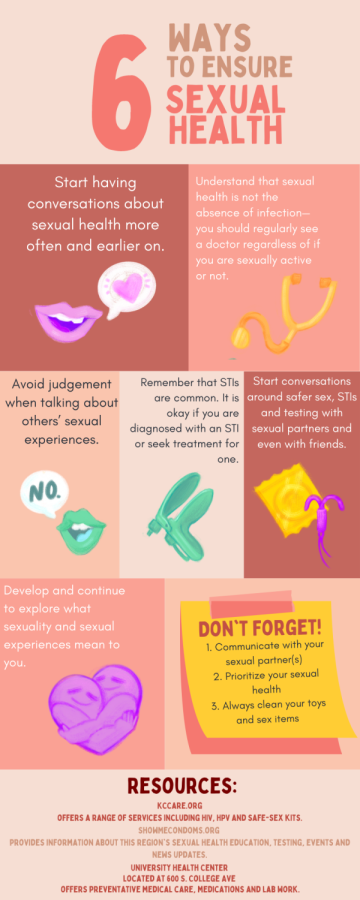 Being sexually active is a form of intimacy that affects ones emotional wellbeing. Sex therapist Nan Wise has found sex affects all individuals' emotions in positive and negative ways through intimacy, attachments or connections. Examples of the emotional connection can include when sex acts as the ultimate act of love or it can act as an affirmation or reassurance in a relationship. It can also simply act as a tension reliever or mood booster. However, sex positivity encourages agreement between partners in each situation. Sex positivity encourages one to  continue to define and explore what sexuality, sexual expression, and desire means to themselves. This also can look like practicing self-affirmation and developing a positive relationship with oneself when it comes to sex. There is no shame in self-exploration of pleasure, and it can be a crucial asset to an individual understanding their own sexual self.
  There are multiple ways to ensure sexual health. First, start having conversations about sexual health more often, earlier on and with young people. This means discussing sexuality and reproductive health with children at the ages when they begin to ask questions. Second, understand that sexual health is not the absence of infection—you should regularly see a doctor regardless of if you are sexually active or not. Reproductive health for both women and men is important even in your early 20s, where reproductive disorders can be diagnosed. Third, avoid judgement when talking about others' sexual experiences. Reconsider the language used to identify or describe a person who is sexually active or not, has an STI, disability or reproductive disorder. Fourth, remember that STIs are common—like, very common. It is okay if you are diagnosed with an STI or seek treatment for one. Part of sex positivity is decreasing the stigma associated with STDs and STIs. Do not be afraid to be completely honest with medical professionals. They are there to help. Fifth, start conversations around safer sex, STIs and testing with sexual partners and even with friends. Sixth, develop and continue to explore what sexuality means to you.
Resources regarding sexual health, sexual assault, mental and emotional health or medical treatment:
On campus, UCM resources consist of the University Health Center located at 600 S. College Ave. Their phone number is 660-543-4770, and they offer preventative medical care, medications and lab work. There is also the 24-Hour Title IX Support Line at 660-441-4855, which provides a confidential resource for sexual assault. There is also ShowMeCondoms.org which provides information aboutthis region's sexual health education, testing, events and news updates. KCCare.org is based in Kansas City and offers a range of services including HIV, HPV and safe-sex kits. KCRelationshipInstitute.com is also based in Kansas City, andthey focus on sex therapy that helps individuals and couples address their sexual challenges,feelings and intimate connection. Planned Parenthood also offers multiple resources.