Muleskinner Takes a Bite out of 'The Big Apple'
 From newspaper critiques, keynote speakers and informational workshops to New York cheesecake and Broadway, the Muleskinner Editorial team had an amazing opportunity to attend the National College Media Association Convention in New York City from March 10-12. It was a fantastic time to grow as a team and learn more about journalism and how our newspaper can improve.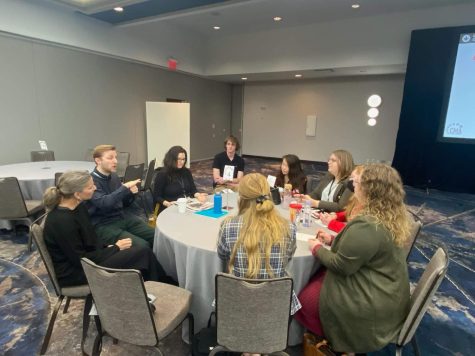 While the conference was great overall, there were key moments that highlighted the experience. One of our best moments was the newspaper critique. It was a rewarding moment to have an outside perspective take such care and consideration to evaluate the hard work students put into our newspaper. We also received constructive feedback on aspects where we succeed and on areas we need to improve.
  Part of a national newspaper conference is something referred to as "the stacks" or an information sharing table, and a tradition is that publications will bring copies to share with others. We brought multiple copies of the Muleskinner to share with students from across the county, and we were able to pick up copies of other publications to connect with powerful student journalism. Student journalists are journalists and being able to see the hard work that goes into publications from across the country shows we aren't just putting out a newspaper, we're part of a huge community. CMA was a moment where UCM students were able to connect with like minded people and challenge themselves in new ways.
  Another inspirational moment was the second keynote of the conference, where Pulitzer Prize winning journalists Jodi Kantor and Megan Twohey from The New York Times, who uncovered film mogul Harvey Weinstein's history of sexual abuse, spoke to younger journalists about how to be investigative reporters. We were 10 feet away from these amazing women who did remarkable journalism to change a culture. They were a remarkable keynote and talked about the importance of holding those in power accountable.
  For DEIA Editor Angela Evatt, one of the most memorable moments was the session titled "Building a Community for Women Journalists: A Strategy Session for Aspiring Leaders," where the executive director and president of the Journalism and Women Symposium organization, Eloiza Altoro, spoke about intentionally making connections and strengthening your network. JAWS is a national network of female journalists, and being able to speak with them and meet other women pursuing journalism was beneficial in many ways.
  For Sports Editor Meah Copeland, one of her favorite sessions was titled "Leadership Styles: Let's Find Yours." Annie Block-Weiss, Associated Students Incorporated programs coordinator, talked about the six different types of leadership styles. Block-Weiss also showed examples of past historical figures who fit the particular styles. Copeland learned that she is more of a servant leader, who serves first and leads second.
  Managing Editor Bethany Spitzmiller was able to have a coffee conversation with members from an organization where she has a few job applications submitted, and that was a great moment to get more insight into the company culture and make important network connections. Fingers crossed.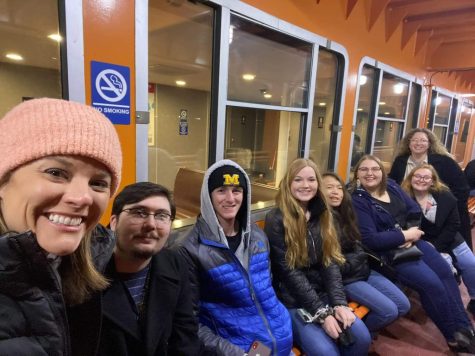 As a group, the editorial leadership team was able to learn about journalism, but also themselves and the big city. We had New York cheesecake, pizza, hot dogs and chased down a black and white cookie for Copeland to bring back for her mom.
  We were able to score cheap tickets to see "Chicago" on Broadway. Features Editor Libby East, living the dream. East has always dreamed of seeing a Broadway show in New York City, being an avid lover of theater. When she heard the cheap price of the tickets, $58 a pop, she felt her heart skip a beat. The show was incredible, as one could expect for a New York show, although she's worried she might've ruined herself for theater going forward. Not a lot could top that. 
  We rode on the Staten Island Ferry, because it's free, to get a closer look at the Statue of Liberty – well worth the shivering we endured in the cold.
  It was a great trip that provided professional development and valuable experiences. While navigating the airport, subway, taxis and Ubers, the Muleskinner editorial leadership team was able to find direction for future coverage and publication goals in NYC. We're looking forward to utilizing all that was learned and bringing better coverage to the UCM campus.
Leave a Comment
About the Contributor
Dillon Seckington, Opinions Editor
Dillon Seckington is a senior at the University of Central Missouri pursuing degrees in digital media production with an emphasis in digital journalism...