Milfred Earl Hall
Milfred Earl Hall, 89, of Warrensburg, died Tuesday, Jan. 8 at Western Missouri Medical Center.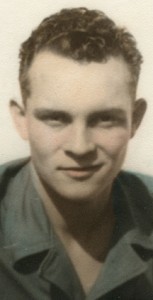 A funeral will be held at 10 a.m. Saturday, Jan. 12 at the First Christian Church of Warrensburg with Pastor Jerry Basye officiating. Pallbearers will be Lela Hall, Sara Hall, Jonathan Biggs, Laura Biggs, David Biggs, Craig Salitros and Dirk Henke.
Interment will follow at Sunset Hill Cemetery.
The family will receive friends from 6 to 7 p.m. Friday, Jan. 11 at Sweeney-Phillips Funeral Home in Warrensburg.
He was born Jan. 18, 1923, in Agra, Okla., the son of Everett M. and Beulah Mae (Denny) Hall. He graduated from Bakersfield High School in 1941. While growing up, he loved to play baseball on local teams.
Milfred met Mary Frances Reynolds, who was a sister to Everett Reynolds, a friend he met in the Navy during World War II. When the war ended, Milfred and Mary were married on April 28, 1946 at the Walter Reynolds' family farm north of Warrensburg. During Milfred's naval service, he was a motor machinist's mate first class with PT Boat Squadron Ron 37, assigned to the Pacific Fleet.
After living and working in Kansas City for two years, Milfred and Mary moved back to Warrensburg and worked together for 38 years running their own business. They were co-owners of Hall Industries, which included coin laundries and a car wash in Knob Noster, Warrensburg and Holden. Milfred was a member of the First Christian Church in Warrensburg. He was also a member and former exalted ruler of the Warrensburg Elks Lodge No. 673, a lifetime member of the American Legion Post 131, and a member of VFW Post 2513.
Milfred loved to have fun. He and Mary had a vacation home at the Lake of the Ozarks for many years.  After retiring, they traveled throughout the country in their motor home, often with the Truman Lake Ramblers Camping Club. Milfred also enjoyed fishing, hunting, reading, gardening, and making things with his hands. He was the "Mr. Fix-It" of the family and shared his delicious tomatoes with many friends. He loved baseball and never missed a chance to watch the Royals play. Milfred was truly a wonderful husband, father, grandfather, friend and neighbor. He impacted the lives of many.
Milfred is survived by one son, Roger Hall, and wife, Linda, of St. Peters, Mo.; one daughter, Sheila Vallee, and husband, Wayne, of Lenexa, Kan.; one brother, Harvey Hall, of Grove, Okla.; one sister, Vera May Rinehart, of Seneca, Mo.; five grandchildren, Lela and Sara Hall and Jonathan, Laura and David Biggs; and two step-grandchildren, Jillian and Christopher Vallee.
He was preceded in death by his parents; his wife, Mary Frances; four brothers, Bud, Joe, Glen and Rex Hall; and one infant sister.
Memorial contributions are suggested to the First Christian Church of Warrensburg and can be left at the funeral home.