UCM Men's Cross Country Ends 2021 Season at National Championship
  After tallying meets in Kansas, Nebraska and Missouri, the University of Central Missouri Men's cross country team finished their season with a national appearance at the 2021 cross country championships in St. Leo, Florida.
  This year's team consisted of 14 runners, with 11 of them being underclassmen. The young team had shown promise throughout the off season, but the season's successes were not set in stone.
  "We were just so young," senior kinesiology major Alex Kirk said. "The inexperience, and not really knowing what we were going to get with our young guys [was a challenge] because they played such a pivotal role on the team, but we ended up balling out."
  On Oct. 23, 2021, the Mules competed at the conference championship held in Kearney, Nebraska, where they placed fifth as a team and had two MIAA honorable mentions. Of the 11 teams that competed at the conference meet, four had been nationally ranked at some point in the season.
  "I think we have a very strong conference, no question," Kirk Pederson, head track and field and cross country coach, said. "I knew that going in, Missouri Southern has been successful nationally and so has Pittsburg State coming in, doing well and some of these teams had fifth year seasons due to COVID. So, I knew that Nebraska Kearney was a strong team because they had a lot of fifth year athletes." 
  The outcome of the conference meet was not the determining factor of the Mules' qualification, but was a flash of what was to come. 
  That success was followed by the Mules' fifth place finish in the Central Region meet, held in Joplin, Missouri on Nov. 6, 2021. The team's first and fifth runners were only separated by a total of 30 seconds. The Mules received an at-large bid to compete in the National Cross Country meet the week following the Regional race in early November.
  "Regionals was crazy and then the practice after regionals when we found out that we got the at-large bid, I think that was easily our biggest high.," Cooper Palmer, freshman computer science major, said.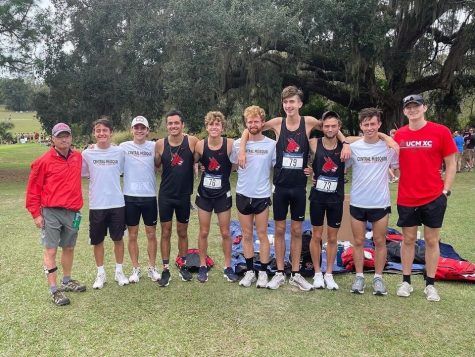 An at-large bid is based on the team's performances throughout the year, among other criteria outlined by the NCAA in their selection procedures, and is given to ten teams throughout the country that didn't automatically qualify for the competition at their regional meet.
  "The regional meet was a super special and super fun race," Alex Kirk said. "We had a really good showing, and did some things that we didn't really think we were capable of, or other people didn't think we were capable of. So, getting to run in that race and getting to show what we had to offer was really cool." 
  Finally, on Nov. 20, 2021, the Mules competed at the national cross country meet in St. Leo, Florida. The team placed 32 out of the 34 teams in the race. 
  "The plan, as we qualified for nationals, was to be successful," coach Pedersen said. "We didn't, as a team, do as well as hoped, but I think the experience here was fantastic for the future. We have a group of freshmen that have a bright future, and I think they learned a lot from this and they'll go now through indoor track and outdoor track."