Twirler Taylor Herrmann Makes her Mark on Campus
 With homecoming week upon the University of Central Missouri, students are looking to get involved with school spirit. Students find themselves running for homecoming royalty, hosting late-night school events, but for freshman interior design major Taylor Herrmann,the day is spent  baton twirling during the Saturday football game. 
  Born in St. Louis, Missouri, Taylor Herrmann started baton twirling in 5th grade at Point Elementary School. 
  "I was always involved in dance and when I got out of dance, my mom found baton for me to do," Taylor said. "It gave me something to kind of focus on with the baton because I could still do the dance aspect, but I had something to look at." 
  Taylor has found family and built relationships in her baton twirling career as well. 
  "I think why I did it mostly was because of the family I had formed with it, and how close I got with my teammates," Taylor said. One of the relationships she formed was her long-time coach, Emily Hawkins of the St. Louis Performance Academy. 
  "She has always wanted to do more. She has always went above and beyond to be an exceptional student, but also an exceptional teammate," Hawkins said.
   Hawkins has coached Taylor her entire baton twirling career.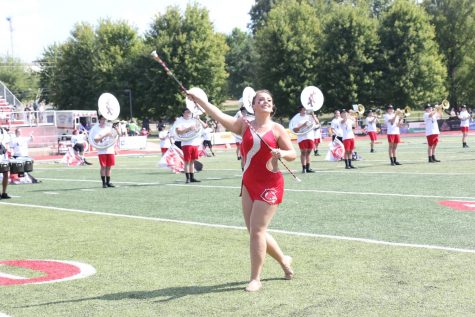 "She has always been prepared and she has always rose to the occasion in every aspect. I've coached a lot of students, and Taylor in general is a very sweet, understanding, lovely individual. Her family is the same way, so I obviously know where that comes from."
  Kenneth Herrman, Taylor's father, was also able to witness Taylor's preparation and kind personality from a very young age.  
  "Taylor loves twirling. Before that, we did a lot of different things. She was involved in dance, she was involved in some musical stuff, and then we got the opportunity with the St. Louis Performance Academy," Kenneth said. "We're really proud of her. She impresses every time she's performing, and the work ethic that she has put into it, even in fifth grade starting, is amazing."
  Kenneth first noticed Taylor's passion for twirling when she started middle school. 
  "We live on a cul-de-sac here. She would spend tons of time out in that middle area when the weather was nice, and when the weather wasn't that great, and she would practice and practice and practice, and when she finally hit her first one spin-toss-and-catch, I knew she was hooked."
  Taylor's practice has given her an opportunity with the University of Central Missouri, even allowing her to help host an event called UCM Twirler for a Day. This event gives twirlers ages four and up a chance to twirl baton with the University of Central Missouri Marching Mules on homecoming game day, Saturday Oct. 23. Registered twirlers will get to practice with the band, enjoy the Homecoming Parade, and find themselves in the pregame performance. 
  "With her hosting this Twirler for a Day, I was even on the receiving end of it this time, where she has been organizing everything. She organized a Zoom call and it was so rewarding to see her being on the other end of it where she was running something and organizing something rather than me organizing it for her," Hawkins said. 
  Taylor wants to be an interior designer  so that she is able to design homes for people. However, she also hopes to continue coaching baton on the side in the future.
  Taylor said, "I probably am going to continue coaching on the side because I have been doing that for a few years now. I just like to help the younger generations kind of get involved with it because there aren't many people who do it."