Billy Ray Burton
Billy Ray Burton, 84, of Warrensburg, died Sunday, Dec. 30, 2012 at the Villa St. Joseph in Overland Park, Kan.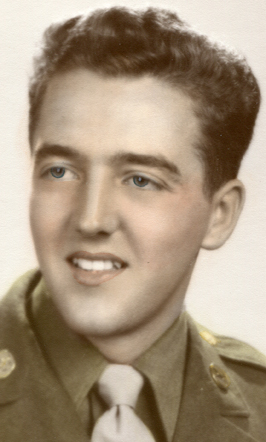 A funeral is scheduled for 1 p.m. Thursday, Jan. 3 at the First Christian Church in Warrensburg with Pastor Jerry Bayse officiating. Pallbearers will be Chris and Brian Burton, Scott Brown, Brett and Evan Culp, Tony Tutera, and Craig Leonard. Honorary pallbearers will be Harold Campbell, Bob Pierceall, Ken O'Neal, Floyd Walker, Russ Coleman, and J.O. Miller.
Interment will follow at the Pleasant Hill Cemetery with fully military honors.
The family will receive friends from 6:30-8 p.m. Wednesday, Jan. 2 at Sweeney-Phillips & Holdren Funeral Home in Warrensburg.
He was born July 28, 1928, in Pleasant Hill, Mo., the son Ray H. and Mamie (Bogner) Burton.
He was united in marriage on June 6, 1948 to Millie Hipsher in Pleasant Hill.
Mr. Burton graduated from Pleasant Hill High School in 1946. He then joined the U.S. Army and served during the Korean War. Mr. Burton moved to Warrensburg in 1956 where he started his own State Farm Insurance Agency in 1958 and retired in July 1988. He was a member of the First Christian Church of Warrensburg and a member of American Legion Post 131 and VFW Post 2513; Elks Lodge 673; the Golden Agers; Warrensburg Lion's Club, where he was awarded "National Lion of the Year" and was a past president. Mr. Burton was a former Eagle Scout and a Mules and Jennies fan. His hobbies included his love for hunting quail and pheasant, fishing, playing cards, especially bridge, and he loved spending time with his children and grandchildren.
Mr. Burton is survived by his wife, Millie, of the home; one son, Mike Burton, and wife, Kim, of Osceola, Mo.; two daughters, Linda Culp and husband, Ron, of Overland Park; Karen Tutera and husband, Joe, of Overland Park; nine grandchildren, Erin Leonard and husband, Craig, of Roeland, Kan.; Brett Culp and wife, Keziah; and Evan Culp all of Overland Park; Chris Burton of Warrensburg; Stacey Alcocer and husband Andres, of Germany; Nicola Ivey and husband, Daniel, of Orlando, Fla.; and Tony Tutera, of Kansas City, Mo.; Scott Brown and wife, Carlie, of Lamar, Mo.; Andi Brown, of Harrisonville, Mo.; three great-grandchildren, Vivian Leonard; Easton Ivey; and Kaiya Smith; and several nieces and nephews.
He was preceded in death by his parents, one brother, Burnie Burton, and one sister in infancy, Helen Burton.
In lieu of flowers, memorial contributions are suggested to the First Christian Church of Warrensburg and can be left in care of the funeral home.