$4.9 Million in Maintenance Underway
  Before Christmas, UCM prepared and submitted a list of 40 maintenance projects, and the list was approved on January 11th, confirming that the University would receive $4.9 million from Mike Parson's Federal Budget Stabilization Fund. New theater lighting, library roof repairs and other projects are underway.
  A year prior, the University had an assessment done on deferred maintenance needs, which totaled $260 million.
  "We weren't shocked, but it's a sobering number," Bill Hawley, vice president of finance and operations, said. "4.9 million, when you compare it to a 260 million dollar need, it's a small piece, but it's a start."
  The $4.9 million will be used for library roof repairs, installing a cooling system in the Ward Edwards Building, to protect the new equipment purchased from the Coronavirus Aid, Relief, and Economic Security Act, and upgrading the lighting system in Highlander Theatre. 
  UCM's last theater performance was held at Warrensburg High School because of lighting issues, which caused safety concerns. The lighting upgrades will bring performances back to campus and allow students to get hands-on experience with new equipment. 
  "I am excited for the safety aspects of it, and I am excited for our students to be able to get their hands on current equipment in a much more safe environment," Lighting Instructor Benjamin Gonzales said.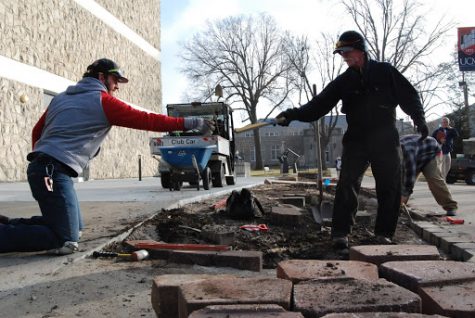 Other projects include landscaping work, replacing windows and roof hatches and repairing cracked walls, leaky roofs, building exteriors and sidewalks.
  "It's important that the campus reflects a well maintained appearance because it also reflects the quality of the university," Tim Castilaw, associate vice president of facilities planning & operations, said. "It's a high priority for us."  
  According to Castilaw, a majority of the projects will be completed by August of 2021. Some projects are already underway. Landscaping improvements are being completed outside of the Humphreys Building. 
  Tia Bond, a UCM ground shop foreman of 14 years, explained that by leveling the flower bed and planting perennials, it will "prevent the mud from flowing onto the sidewalk and creating a problem." The perennials will also provide plant life on campus year-round rather than seasonally.
  Gerry Thomas, a junior criminal justice major, is a student ambassador at UCM. student ambassadors guide tours for prospective students interested in attending UCM, and Thomas spoke to the importance of keeping campus looking maintained. 
  "I think work environment is huge for people, so always keeping it and renovating it to keep it nice is a big factor on the school and not just the campus, but for the people who work here and people that live here too," Thomas said.