The Art of Performance: Drag Queens Promote Inclusivity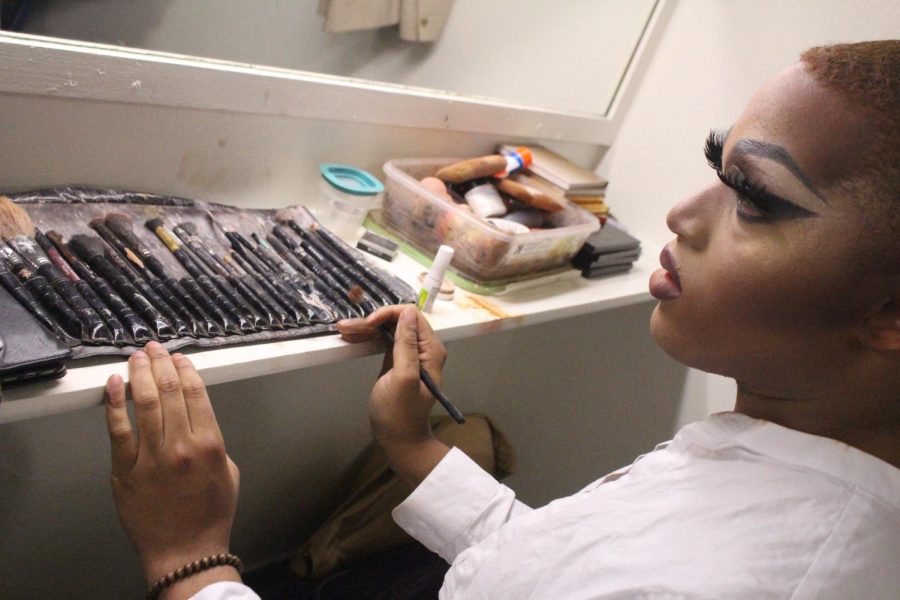 Drag is about performances, satire and challenging social norms, while promoting diversity and inclusion. On Oct. 21, Spotlight hosted the 8th annual Royal Blush Drag Show, featuring performers from the Kansas City area including host Dirty Dorthy and RiiRii, Miss Priscilla, Lana Luxx, Kiki Uchawi and Karmella Uchawi.
  Sarah Ray Rondot, assistant professor of women, gender and sexuality studies, said a drag show is a performance where participants dress up as a different gender. They use different gender expressions with songs, costumes and make up to celebrate gender expression. There is a wide variety of this type of performance. To Rondot, drag shows are important to performers who aren't able to express themselves openly. 
  "From the students I've talked to and the drag shows I've been to on the campus, it seems very beneficial for queer students of color, who don't have a place together," Rondot said. "We don't have a place for queer people to come together. It seems really important for Warrensburg to have," Rondot said. 
  The first drag show at UCM was hosted in 2013 after former UCM student Diallo Simms, a drag performer, was approached by UCM grad student, Natalie Fajardo, to create a function to promote diversity and inclusion on campus. Simms coordinated this event with Spotlight. 
  "I think that it's good to go in with an open mind as an audience member because this is the most they can be themselves," Simms said.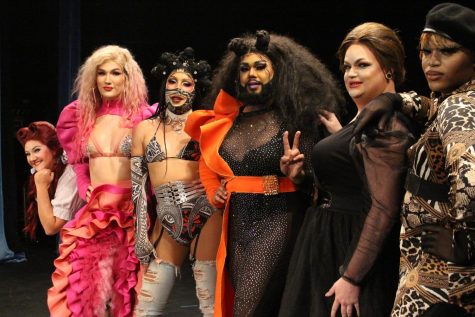 As the shows have continued, students still appreciate the inclusivity. The presentations allow audiences to gain a better understanding of gender identities and how they are  performed within society.
  "I'm really glad that UCM is trying to find a diverse way to include more people on campus," freshman education major Lindsey Burns said. 
  Before this year's show, a Q&A session was held during which students asked the performers about drag, and Simms led a discussion that gave a brief overview of drag culture, including information about the differences between people who identify as transgender, drag performers and people who choose to cross dress. Lana Luxx said drag is performance-based, cross-dressing is usually for personal pleasure and transgender individuals change their way of life to better represent themselves. 
   The queens performed a number of familiar songs and remixed classics during the show. Priscilla lip-synced to "Rolling in the Deep" by Adele and Lana Luxx played Lady Gaga's "Plastic Doll" during her performance. Dirty Dorthy had everyone sing a rendition of "Over the Rainbow" by Israel Kamakawiwoʻole. 
  RiiRii said it takes 2-3 weeks to create costumes and up to six hours to prepare for a performance. Lana Luxx created a "vagina pantsuit" for her performance. She said her intention of wearing this was to make the audience laugh, and it did. 
  All the queens' work and preparation made the 8th annual Royal Blush Drag Show a success, and students said they enjoyed the performances.
  "I showed up because it's something different than I'm used to seeing," junior social work major Tessa Eldringhoff said. "The queens always put on a good show, and I like watching them."
About the Contributors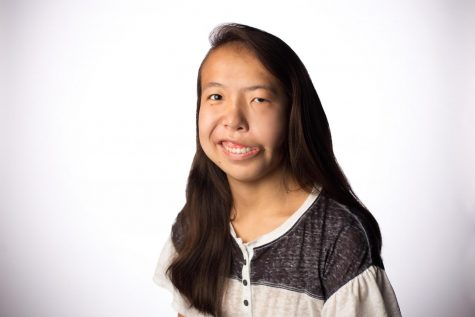 Meah Copeland, Reporter
Meah Copeland is a reporter for the Muleskinner Newspaper. Her major is Digital Media Production with an emphasis in Sports Reporting and Broadcast. Meah...