Homelessness: The person behind the label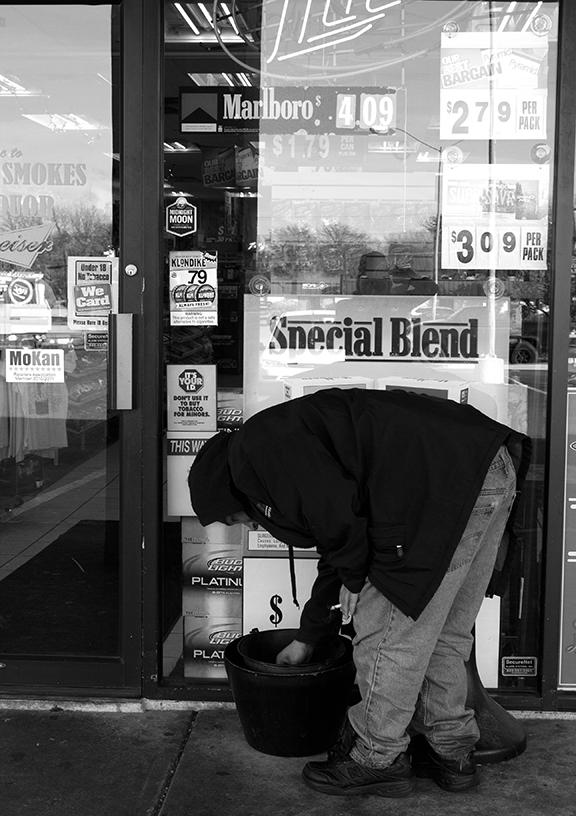 By KRISTIN GALLAGHER
(WARRENSBURG, Mo., digitalBURG)
Part Five: A sensitive man
Editor's Note: This is the fifth story in a six-part series that offers a glimpse into the lives of the homeless in our community.

"They don't give hugs in the Army," Teddy Bear said as he shook his head and smiled a bit. "I am a very emotional person. I like to hug."
Teddy loves to smile, always offers a handshake and a hello, and strives to be a good listener to everyone he meets. Despite his appearance, with his long trench coat and backwards hat, Teddy is a very welcoming person, which is one of the reasons he believes his time is the Army did not suit him.
"There is always someone yelling in your face," he said. "The Army just wasn't for me."
Teddy came to Warrensburg after retiring from the Army with no home to go to.  The Army weakened his joints to the point that he chose not to work, which left him with no means of establishing a stable home.
While Teddy did not enjoy his time in the Army, he said there were many factors that led him to enlist.
Teddy's childhood played a large role in his decision to become a soldier.
"Until the age of 12," Teddy said, " I was molested by my father. That was when I stabbed him."
Teddy was sent to a mental institution by his father and was there for six months. When he was released, he was sent back to live with his father, but not for very long.
So at 13, Teddy was kicked out.
"I wanted to get as far away from him as I could," he said. "I found my way to New Jersey where my best friend lived. A lot of truck drivers gave me rides."
Once he reached his destination, Teddy spent a lot of time with his best friend, Ken, and his cousin, Missy.
"Missy trusted me," he said. "She was affectionate. It was the first time I had real contact with anyone, and it made me cry."
Teddy spent some time staying with his mother while there, but the situation was not any more ideal than living with his father.
"My mother was a sweetheart – when she wasn't high," he said. "And my stepfather insulted me and beat me all the time."
So Teddy, Ken and Missy became a family. But there came a time for Teddy to move on. So, he saved up money and bought his first car outright.
"I had to run away," he said. "I had dropped out of school and everything."
So he ran.
Teddy began his first job delivering pizzas.
"I worked for Domino's and Pizza Hut," he said. "I wanted to work all day, every day to save up and not live in my car."
With his paychecks, Teddy would get a cheap hotel room to shower and do laundry.
"I was actually proud of myself for being on my own," he said.
Shortly after beginning work, Teddy flipped his car and ruined it. He lost both of his jobs and had to leave everything he owned in his car because he could not carry it all with him.
"This was the first time I was really homeless with no car," he said.
It wasn't long until Teddy found someone willing to give him another job.
"I began stealing cars," he said. "I got $1,000 per car. I had to steal to live, and I hated it."
Although a risky job, Teddy only had to steal one car a month to stay in a hotel for a month.
"One month I may steal four cars just so I wouldn't have to steal any the next month," he said.
By the age of 18, Teddy was ready to move on from his illegal lifestyle and push toward something better. He went to an Air Force recruiter in hopes of joining, but was let down when he was refused due to a lack of GED and much work history.
Feeling discouraged, Teddy began to give up on himself and his life.
"At 19, I hated myself," he said. "I had no friends…I wanted to be something better. I wanted to be someone who didn't hate themselves or their lives. So, I joined the Army."
Teddy signed up for eight years in the Army and completed that one-year tour in Afghanistan, but realized the military did not suit his sensitive personality. He retired immediately after his tour.
With no real home to go to, Teddy ended up in Warrensburg with hopes of finding a new way to fulfill his desire to help others.