Richard J. Underwood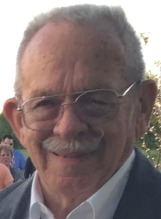 Richard J. Underwood, 80, of Springfield, Missouri, formerly of Warrensburg, Missouri, died Saturday, Aug. 5,  at Mercy Hospital in Springfield.
Graveside services will be held at 3:15 p.m. Thursday,  Aug. 10, at Warrensburg Memorial Gardens.  The family will receive friends prior to services at 2 p.m. at Sweeney-Phillips and Holdren Funeral Home. Pallbearers will be Kevin Johnston, Kyle Johnston, Bob Howard, Bill Canet, Jimmy Howard, Ron Underwood and Jerry Howard.
He was born Sept. 12, 1936, in Franklin, New York, to Fred and Louana Bugbee Underwood.  He graduated from Franklin Central School in 1954 and enlisted in the United States Air Force.  While stationed at Whiteman Air Force Base, he met and married Della J. Wheatley in 1958.  After 23 years of military service, he retired and began a new career for the Missouri State Highway Patrol as a Driver Examiner, retiring in 1993. Then he enjoyed fishing with his sons and grandsons and traveling with his wife.
Richard is survived by his wife of 59 years, Della; and their three children, Doug (Monique) Underwood of Overland Park, Kansas; David (Heather) Underwood of Lenexa, Kansas; and Dana Johnston of Springfield. He is also survived by his twin brother Robert (Marlene) Underwood of Big Spring. Texas; his grandchildren, Kevin (Amber) Johnston; Kyle (Lyndsy) Johnston of Walnut Grove, Missouri; and Brittney, Taylor and Quinn Underwood of Overland Park; his great-grandchildren, Sawyer A. Johnston; and Emersyn F. Johnston of Walnut Grove; and several nieces and nephews.
He was preceded in death by his parents, Fred and Louana Underwood; a brother, Charles Underwood, of Round Rock, Texas; a son-in-law, Bear Johnston, of Walnut Grove; and a granddaughter Whitney Rose Underwood of Lenexa.
Memorial contributions are suggested to The American Cancer Society or Hope Lodge of Kansas City, Missouri, and can be left in care of the funeral home.