Virginia Loretta "Genie" McCarty, 83, of Holden, Missouri, died Monday, April 10, at Holden Manor Care Center.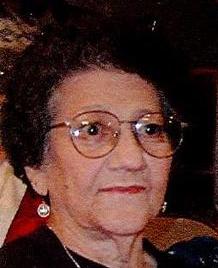 Funeral service will be 11 a.m. Thursday, April 13, at Williams Funeral Chapel in Holden with Father Pete Savidge officiating.  Interment will follow at Mt. Calvary Cemetery in Holden.
There will be a Rosary Service at 9:40 a.m. on Thursday, followed by visitation from 10-11 a.m. at the funeral home.
Genie was born Feb. 1, 1934 in Kansas City, Missouri, the daughter of Angelo P. and Frances L. (Montelone) Donnici. She lived in Kansas City during her childhood and she resided near Raytown during her teen years. Genie had been a Holden resident for over fifty years. She worked at both the shoe factory in Odessa and Holden Manufacturing prior to cleaning homes for twenty six years. She was a devoted member of St. Patrick's Catholic Church and also the Altar Society. Genie was a 4-H leader in years past.
Survivors include son, Steve McCarty and wife, Juanita, of Holden; daughter, Theresa Ferguson and husband, Bobby, of Holden; daughter-in-law Maurita McCarty, of Tulsa, Oklahoma; four grandchildren, Anthony McCarty, Curtis McCarty, Paul McCarty and Amanda Ferguson; several great-grandchildren and also several nieces and nephews. She was preceded in death by her son, Dennis McCarty; two sisters, Florence Sechrest and Deanna Sargent; brother, Gary Donnici; granddaughter, Melissa McCarty; and great-grandson, Geato McCarty.

In lieu of flowers, memorial contributions are suggested to Mt. Calvary Cemetery Association in care of the funeral home.
Story continues below advertisement