Mules basketball wants MIAA title for itself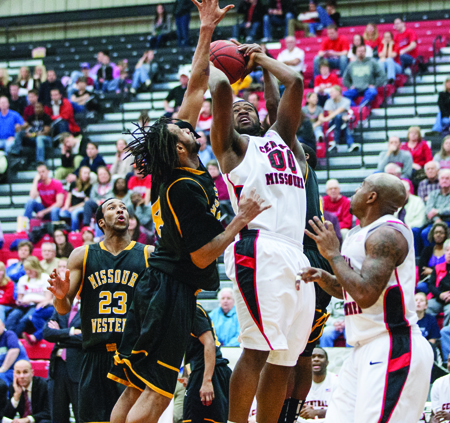 Story by Jason Strickland, Sports Editor
The Mules basketball team shared the MIAA regular season title last season with Washburn and Northwest, so they want to win the title by themselves this season.
"We want the MIAA as one," senior guard Reggie Stallings said. "We want to claim it, and we feel like we have a good chance this year with the group of guys we have this year to win it all and to claim it for ourselves."
Senior center Matt Webb said he would accept nothing less than an MIAA title this season.
"My expectations are another MIAA title or bust, and this time not share it," Webb said. "We have a lot of talent and we have a lot of seniors… It's our second year in the offense, so we have no excuses. Now it's time to put up or shut up. It's time to play."
There are eight seniors on the team, so head coach Kim Anderson expects this squad to gel very well.
"I think my biggest expectation for this group is to kind of mold themselves together as a group, and develop some good chemistry," Anderson said. "I think we have a very talented group, and I think our biggest challenge is to be able to play together."
Stallings will get a second chance at his senior season, since he received a medical redshirt last year after tearing his ACL early in the season.
"The brace was sort of big and bulky at the beginning, but now I'm used to it," Stallings said. "I'm getting to move with it. I feel like I'm almost to where I was before I got injured, and I'm thankful to have another year."
Stallings only averaged eight points per game two seasons ago, but he made the All-MIAA defensive team.
"He's kind of a defensive stopper, and that's kind of the role that we've tried to put towards him is, 'Hey, we need a guy who can come in and stop guys,'" Anderson said. "I think having him back will be a big help for us."
While Stallings will be one of the main backcourt players for the Mules, the 6-foot-8-inch 250 pound Webb will be the key inside player. The Mules have a few others who can be substituted in at center as well.
"Obviously, Matt Webb and Alex Dean are the two guys we are going to rely upon the most, but I think we've got some new guys," Anderson said.
"Zach Bush, I think, can help us. We can play Andrew Whitehead in there some. We will probably go with a smaller lineup for the most part, but I would like to get to the point to where those two guys (Webb and Dean) can play together at times, too."
Dean came off the bench most of his junior season, as he only made six starts. He averaged 7.3 points per game and 3.5 rebounds per game.
Bush averaged 11.3 points and seven rebounds last season as a sophomore at Kansas City Kansas Community College.
Whitehead redshirted last season after transferring from Central Arizona Community College. He averaged 16 points and six rebounds as a sophomore there.
Juniors Charles Hammork, Jon Gilliam and Ryan Magdziarz are other newcomers Anderson said could see playing time this season.
Hammork, along with Webb, led the Mules with 15 points in the 75-66 loss in an exhibition game at Division I Austin Peay over the weekend. Gilliam missed two 3-pointers in four minutes of play during the game. Magdziarz did not appear in the game.
"He's (Hammork) a guys who is kind of a multidimensional guy," Anderson said. "He shoots it well, he can handle it and he sees the floor. I think he's a guy you are going to see a lot of.
"Jon Gilliam is a good shooter. He's kind of an off guard, tough, physical guy who can shoot the basketball. Ryan Magdziarz is from Johnson County. He's a rugged 6-4 guy that can shoot it and take it to the hole pretty strong."
The regular season begins with a home game against Division III Webster University on Saturday at 3:30 p.m.