Islam from two sides: College Republicans, Muslim Student Association host events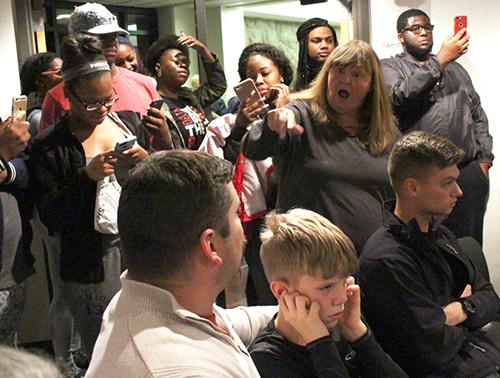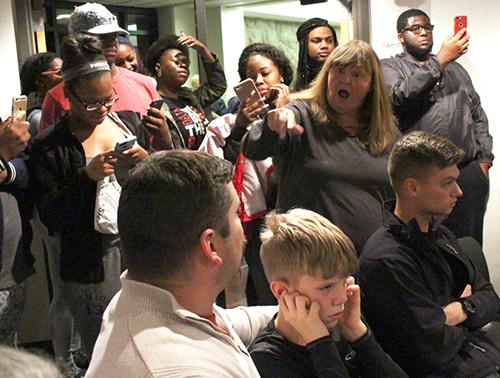 By BETHANY SHERROW
News Editor
(WARRENSBURG, MO., digitalBURG) — Two competing events related to Islam took place on campus Wednesday, Nov. 2. One centered on the concept of "radical Islam" and the other focused on Islamophobia.
The Muslim Student Association brought Moussa Elbayoumy, a representative for the Council on American-Islamic Relations in Kansas City, Kansas, to the James C. Kirkpatrick Library to speak about Islamophobia and Muslim contributions to American society. The event was attended by roughly 200 students, faculty, staff and community members, and included a free dinner, trivia games and the showing of an Islamic documentary.
The UCM College Republicans, in conjunction with the Young America's Foundation, hosted retired Lt. Col. Allen West at the Elliott Student Union where he presented a lecture titled "The Truth about Radical Islam." Around 180 people from the UCM and Warrensburg communities attended the event.
Kamel Ghozzi, professor of sociology and the MSA's faculty adviser, said he thinks having two events about more or less the same issue on the same night is a positive thing.
"One is about Islam(ic) terror, and one is about Islamophobia," Ghozzi said. "This is beautiful because this is a campus culture. Campuses without debates and even controversies are not good campuses."
Jacob Davis, president of the UCM College Republicans, said many people, including members of the College Republicans, don't agree with West's messages. He said the group knew there would be some opposition to West's presence on campus, so they worked with UCM Public Safety and campus administration to ensure the safety of those in attendance.
The Kansas City Revolutionary Collective, an autonomous Marxist-Leninist-Maoist collective based in Kansas City, Missouri, protested West's event, chanting slogans like "U.S. imperialists, number one terrorists" and "No speech for fascists." Jamie Jammer, KCRC protest organizer, said the goal of the protest was to disrupt or even shut down the event.
West supporters responded to the protest by chanting "Trump" and "USA." The event was stalled for roughly 10 minutes. KCRC protestors left voluntarily after Public Safety officers asked them to leave.
Davis said KCRC's actions were not in protest. He said a protest is exercising your freedom of speech and assembly, and a shutdown is trying to impede on other people's freedom of speech.
A KCRC member who called himself Nano said he decided to protest the event because West is a war criminal who was discharged from the military for simulating an execution. Nano said West shouldn't have been invited to speak at UCM.
"I mean I understand; you know he has his free speech," Nano said. "(But) once you come into schools and try to influence young people with your ideas. Adolf (Hitler) had his free speech, and look where he went."
West said KCRC's demonstration concerned him.
"We're screwed up in this country," West said to the crowd. "But, the good thing is this, there are enough of us that will continue to protect those people so that they can come here and say those denigrating, disparaging and demeaning words."
After the KCRC left, West's speech outlined his plan to defeat what he called a global Islamic jihad. West said there are four imperatives to his plan: denying sanctuary; cutting off the flow of men, material and weapon support; winning information; and reducing Islamic sphere of influence.
On the other side of campus, Elbayoumy spoke about Islamophobia, hate and their effects. Elbayoumy said he came to campus as a representative of the Council on American-Islam Relations, an organization that advocates for justice and political understanding.
"Our ultimate mission is to enhance understanding of Islam through college dialogue," he said. "(And) protect civil liberties not only for Muslims, but for all, and empower other Muslims to build coalitions that bring justice and political understanding."
West acknowledged the MSA's event and accused Elbayoumy of working for an organization with ties to terrorism.
"Their speaker represents an organization that was an unindicted co-conspirator in the largest Islamic terrorist funding case in the United States of America and that's the Council for Islamic Relations who we know has ties to Hamas and has ties to the Muslim Brotherhood," West said. "At least those sitting here can say one thing: You have a speaker that's not tied to Islamic terrorism or terrorism period."
Akis Kalaitzidis, professor of political science, said he attended both events and thought West's comment about CAIR speaker Elbayoumy was over the top.
"I didn't think the person who was speaking at the MSA was an agent of Islamic fundamentalism," Kalaitzidis said. "If Allen West had a chance to hear the man, he would think that he was one of the good guys."
Kalaitzidis said he did not understand where West's comments about CAIR came from.
"It does not make logical sense to me," Kalaitzidis said. "Islamic fundamentalism means you hate America and you want to see it do badly, you don't send people to tell Americans we can all live together in harmony. I didn't agree with Mr. West."
Elbayoumy said different polarized groups often hate each other because they're afraid of each other, and are afraid of each other because they do not know each other.
"Our society has lived through many stages where there was always someone being singled out," Elbayoumy said. "I'm here to tell you that I have the full confidence and trust that eventually our society, our country, has the built-in ability to overcome all that and come back to the right conclusion and accept and integrate all the people coming to it.
"We may be going through the difficult times, Muslims being the new target for the same old hate. But, I am sure, I am 100 percent sure that there will be a day when Muslims will prove to be what they are today, an integral part of this society, this community, an actively involved part and accepted as much as anybody else."
Ramsha Akhtar, MSA president, said the event was successful in its objective of educating students, and providing a fun place for MSA members to interact with other students at UCM.
"I think that most of the students that were there they were kind of seeing us at the first glance, like they were just getting to know us," Akhtar said. "I think that was beautiful that they got the chance to see us because we're normal human beings and we can do fun things as well."
Akhtar said people had posted fliers for West's event outside her mosque in Kansas City, Missouri, and the MSA Facebook page was receiving harassing messages.
Davis said the College Republicans have good working relationships with all other campus organizations. He said it's a shame that one of the members went out of their way to burn bridges with campus Muslims and with the MSA.
Akhtar said so much focus was put on West's event, the MSA didn't expect that big of a turnout at their event.
"I'm just so happy that we just didn't focus on them at all, and we just focused on the positive side," she said. "Our event was not against him. Our event was just to be an educational event for our Muslim members to have an opportunity to get together and do something fun."
Tara Napoleone-Clifford, MAPS IDEAS coordinator, said she thinks some unlikely friendships blossomed from the collision of these two events, especially between Davis and Akhtar.
"(Akhtar) and the president of the Republican group (Davis) have become pretty good friends, which is great," Napoleone-Clifford said. "Through dialogue we're supposed to be breaking down these barriers. It wouldn't have happened if this wouldn't have been something that happened on campus."
Davis said he and Akhtar had been talking about the events in the weeks leading up to them.
"She let me know of developments that were going to happen in regards to the event and I let her know about developments that were going to happen in regards to our event so that way nobody was blindsided," Davis said. "We didn't want the two events to be one against the other. Their event wasn't against ours and ours certainly wasn't against them."
Preston Billingsley, president of the UCM College Democrats, said his organization originally wanted to protest West's event. He said they instead decided it would be more productive to support the MSA through attendance and participation in their event. While he didn't protest, Billingsley said he and several other members of the College Democrats attended both events.
Billingsley said the events were different because West's event was hateful, negative and a downer, and the MSA event was supportive and uplifting. He said he still thinks the decision by the Democrats not to protest was the right one.
"We know that Allen West when he goes to these campuses he comes with his reporters and lawyers and his goal is to stir up college campuses and get backlash from college students," Billingsley said. "We didn't want to play into that, we didn't want to protest and give him the satisfaction of disturbing our peace on campus."
Billingsley said Akhtar reached out to him with a plan to have a lunch with College Republicans, UCM Democrats and MSA to recap everything that happened so they can learn from each other and move on.
"I'm really looking forward to that lunch and seeing how that goes," he said. "It's good to just kind of have closure to everything and making sure that everybody is OK on all sides."
Billingsley said we have to keep pushing every day for inclusivity on our campus.
"That's my major takeaway, just love, love, love, love each other and support each other."