Juanita Fay Hertzog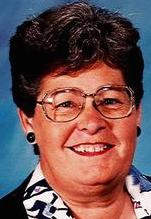 Juanita "Nita" Fay Hertzog, 72, of Holden, Missouri, died Tuesday, July 19. Nita fought a courageous battle against uterine cancer since November 2012.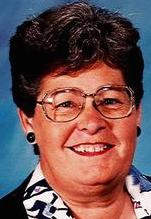 Visitation will be from 6-8 p.m. Sunday, July 24, at Williams Funeral Chapel in Holden, and the funeral will be 2 p.m. Monday, July 25, at New Hope Baptist Church.
Nita was born Oct. 12, 1943, in Carrollto, Missouri, where she lived and graduated from high school before moving to Warrensburg to attend what was then Central Missouri State College. It was at CMSC where Nita earned a bachelor's and master's degree in education before beginning her teaching career in the Harrisonville, Missouri, Lee's Summit, Missouri, and Holden school districts. It was also in college that she met Doris Stark, her lifelong friend who first brought her to the First Baptist Church in Holden. It was at First Baptist where Nita first met Don Hertzog. They would later be married in the same church on Feb. 1, 1969, after Nita completed her mission trip to Hong Kong with Doris. Once married, Nita quickly settled into and adapted to the life of a dairy farmer's wife where she was able to indulge in her love of being outdoors and gardening.
Before beginning their own family, Don and Nita were able to practice their parenting skills by "borrowing" Sheryl Ann Stark, who spent many hours with them growing up on the Hertzog Farm. On Sept. 12, 1970 Jeffery Don Hertzog was born, and was then followed by Kimberly Ann Hertzog who was born May 19, 1974. Their family didn't stop there. Nita was able to be "another mother" for Kristi Burton who was born on May 26, 1988 and spent most of her young life being raised by the Hertzogs. Nita's granddaughter, Coralie Reagan Hertzog, was born on Nov. 11, 1997 (daughter of Kim). Nita was also blessed to be called grandma by Kristi's children, Ty, Levi and Lily Talbott. Nita did not limit her love and care to just her family and most times you could find children of friends and neighbors at the their farm playing outdoors on the farm or jumping on their trampoli ne. Nita spent most of her adult life enjoying being a mother, a grandmother, a teacher, a dairy wife, a gardener, caring for her in-laws, being an active member and WMU director at First Baptist Church and then a founding and continuing active member of New Hope Baptist Church of Holden. One of Nita's greatest joys was being able to see Jeff, Kim, Kristi and Coralie all come to accept Christ as their personal savior and be there for their baptisms.
Nita was proceeded in death by her parents John "Henry" and Vera May Brockmeier, as well as her sister, Patricia Kay Petet. Nita is survived by her husband Don, son Jeff, daughter Kim, and granddaughter Coralie all of Holden, and Kristi Talbott and her family of Rich Hill, Missouri. Nita is also survived by her three brothers Carroll, Don and Danny (Lynda) Brockmeier all of Carrollton, Missouri.
Nita's hearts desire was that all of her friends and family would know the good news of Christ's love and BELIEVE.
Donations can be made to the Juanita Hertzog memorial fund through Williams funeral home.