Jay Dewayne Cronhardt
Jay Dewayne Cronhardt, 64, of Knob Noster, Missouri, died Tuesday, July 5, at Lee's Summit Medical Center.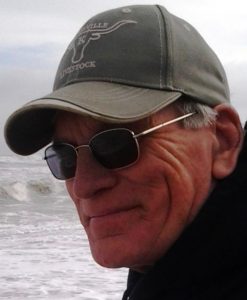 Funeral services will be 3 p.m. Friday, July 8, at Sweeney-Phillips & Holdren Funeral Home in Warrensburg with the Rev. Cliff Dudley officiating. The family will receive friends from 2 p.m. until service time Friday at the funeral home.
Jay was born Nov. 27, 1951, in Warrensburg, the son of CJ and Norma (Morrell) Cronhardt. He graduated from Leeton High School in 1970 and attended State Fair Community College to pursue a degree in agriculture while working on the Cronhardt Family Farm. He married Carol Ann Walden on Jan. 10, 1972. They were married for 27 years and had two children, Amy and Chad. Jay went on to work at Pittsburgh Corning in Sedalia, Missouri, in the mid-1980s and continued there until he retired in June 2012. During that time he continued to raise cattle on the farm and furthered his education in electronics at State Fair.
Jay enjoyed his retirement by working on his farm. He enjoyed flea markets and auctions, be it for livestock or automobiles, and couldn't resist searching junk yards with his son, Chad, for classic cars in need of restoration. He was always open to new challenges and willing to try raising just about any kind of animal, be it sheep, goats, chickens or bison. His daughter, Amy, enjoyed this with him. He even recently flew in an airplane for the first time on a trip to Florida. He managed to dip his toes in the ocean but the salt water stains never came out of his boots.
Jay spent all of his years on Earth living on the family farm in Knob Noster and he couldn't have been happier anywhere else. He was a good friend to many in the community and was always ready and willing to help out a friend, neighbor or family member in need. Jay worked hard to provide for his family of which he was particularly proud. He loved his two children and was proud of their accomplishments. He was particularly proud of his five grandchildren and he couldn't have loved them more.
Jay is survived by his son, Chad Cronhardt, and wife, Shelley, of Clinton; his daughter, Amy Younce, and husband, Mark, of Knob Noster; his brother, Jack Cronhardt, and wife, Carol, of Columbia; his companion, Pamela Plummer, of Knob Noster; and five grandchildren, Rebecca and Garrett Younce, and Marlee, Logan and Vivian Cronhardt.
Memorial contributions are suggested to the Leeton FFA and can be left in care of the funeral home.