Bruce Millstead Jr.
Bruce Millstead Jr., 73, of Warrensburg, died Friday, Oct. 26 at his home, surrounded by his family.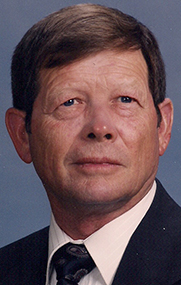 Funeral services will be at 2 p.m. Tuesday, Oct. 30 at Sweeney-Phillips & Holdren Funeral Home in Warrensburg. Military services will be conducted. Honorary pallbearers will be Thomas Ray, Jyl Ray, Tracy Robertson, Mathew Robertson, Simberle Hamilton, Cale Hamilton, Cayman Millstead and Chris Wells.  The family will receive friends from 1-2 p.m. prior to the service. Interment will follow in Memorial Gardens Cemetery, Warrensburg.
He was born Feb. 11, 1939 in Camdenton, Mo., the son of Bruce and Dorothy J. (Winfrey) Millstead. When he was 10 years old, the family moved to Warrensburg. He graduated from Warrensburg High School in 1957.
He was united in marriage to Loretta G. Marr on May 29, 1959, at the First Presbyterian Church in Warrensburg. They made their home in Warrensburg for all but six years of their married life. He was a member of the First Baptist Church of Warrensburg. 
He began his military career in 1957 with the Army National Guard. He later served in the Nike-Hercules Missile Program in Lone Jack, Mo., for six years. When the Nike program closed he transferred to Company D, 38th Aviation (attack helicopter) Battalion, Missouri Army National Guard in Warrensburg. He was a dedicated soldier, always ready to serve and received many achievements and awards including the U.S. Army Meritorious Service Medal. After 37 years of service, Bruce retired honorably as chief warrant officer (W3).
Bruce also dedicated his life's work to the Masonic Order. He was initiated into the Holden Lodge No. 262. In 1976, Bruce served as worshipful master of the Corinthian Lodge No. 265 in Warrensburg and in 1981 he served as master of kadosh, Consistory, of the Scottish Rite in Kansas City, Mo. He was a member of the Ararat Shrine in Kansas City, Mo. He was a life member of the Elks Lodge No. 673 for 53 years.
Bruce enjoyed spending time with family and friends, fishing, and bell collecting with his wife. He was a member of the American Bell Association International and local chapter Heart of America Chimers.
Survivors include his wife Loretta of 53 years; one daughter, Annette Ray and husband Douglas of Sedalia, Mo.; one son, Tony Millstead and wife Revay, of Olathe, Kan.; one grandson, Thomas Ray, and wife Jyl, Sedalia; three granddaughters, Tracy Robertson and husband Mathew, of Kansas City, Mo., Simberle Hamilton and husband Cale, of Canton, Ga., and Cayman Millstead, of Warrensburg; four great-grandchildren, Carter, Harrison and Adelyn Ray of Sedalia, and Jake Hamilton of Canton, Ga.; two brothers, Jim Millstead, of Riverside, Mo., and Jerry Millstead, and wife Phyllis of Holden Mo.; one sister-in-law, Marylan Millstead, of Warrensburg, and several nieces and nephews.
He was preceded in death by his parents, one brother, Jacob Millstead, and one sister-in-law, Linda Millstead.
In lieu of flowers, memorial contributions can be made to the Masonic Home, or Crossroads Hospice, in care of the funeral home.