Faces of UCM: Ulises Garcia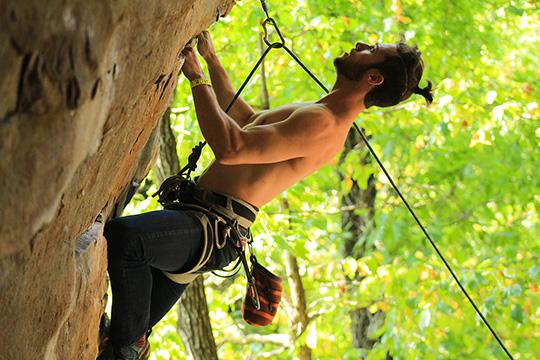 By LIZZIE RIDDER
Reporter
(WARRENSBURG, Mo., digitalBURG) — From the Sunshine State to the Show-Me State, Ulises Garcia has brought his free spirit and carefree nature to the grounds of UCM. A senior corporate fitness major, Garcia has certainly found his niche; trading the beach for a small Missouri town, he said he couldn't imagine being where he is now. Originally planning to run track for the university, Garcia eventually decided to end his collegiate sports career.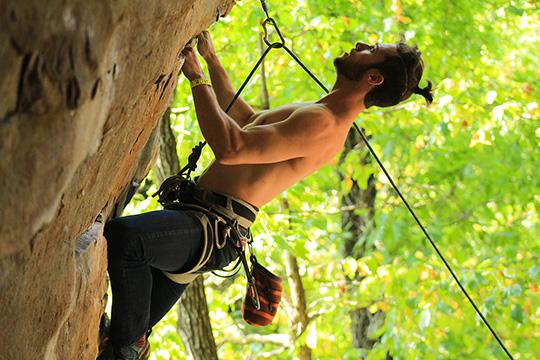 "Since I stopped running track, I made so many good friends up here, so many close friends, that I decided I should just stay and finish out here because I kind of like Missouri," Garcia said.
When Garcia made the choice to stop running track, he came across a different kind of recreational activity, an activity that allowed his creative and multi-track brain to thrive. Rock climbing has presented Garcia with both a mental and physical challenge. Scaling heights well beyond comfortability, he's found a passion for climbing.
"I guess I was subconsciously trying to fill a void that was created when I stopped competing in sports," Garcia said. "I just found myself one day at the wall climbing up this problem that now seems super easy, but it felt impossible at the time. I was like 'Man, that was so hard, but that was so awesome that I made it to the top of the wall,' and now, fast forward, I'm climbing a bunch, and it's awesome."
Garcia said climbing is like a puzzle for his mind and for his body. Unable to do the same activity numerous times, he said he is able to use climbing as a way to complement his personality. Through rock climbing, he's figured out how to constantly change things up.
"The thing that I love about rock climbing is that it's literally different every single time," he said. "Every single hold is different, every single route is different and each time you climb the same route, you do it differently. You're never going to do the same thing twice, and it's always changing. There are endless possibilities. That's my favorite thing."
With aspirations to continue climbing, Garcia said he hopes to explore areas that have potential climbing. The problem is that very little of it is developed; either the people that live there don't have the resources to rock climb, or no one has gone to develop new areas. He also hopes to coach in the future as well as help do route setting at gyms and even possibly getting involved with a hold-making company for indoor climbing gyms. Rock climbing is a part of him, but to Garcia, there are things that matter more.
"I hope to be a kind person, I hope to have a positive outlook on life, I hope to have a contagious excitement about me that inspires others," Garcia said. "That would be the coolest thing, but that's not for me to say about myself. I hope that people see me in the way that I live my life and the decisions I make, and just my attitude and perspective that is inspiring to some people."
Setting his mind to be the best person and climber he can be, Garcia has a determination about him that others are drawn to, a confidence that sets him apart from the crowd. He said he's in constant pursuit to live well.
"I think I'm constantly making those decisions and having those moments along the way in discovering myself; a lot of reflection a lot of, this is my past, this is who I've been, and now what should I do now to be the person that I want to be," he said.