Bernadine LaRue Whitaker
Bernadine LaRue Whitaker, 92, of Warrensburg, died Saturday, Oct. 13 at Western Missouri Medical Center.
Funeral services will be at 10 a.m. Wednesday, Oct. 17 at the First Presbyterian Church of Warrensburg with the Rev. Heather Jepsen officiating.
Interment will follow at Carpenter Cemetery southwest of Chilhowee, Mo.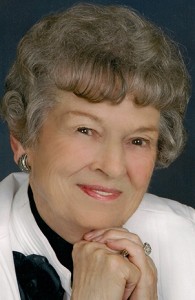 The family will receive friends from 6 to 7:30 p.m. Tuesday, Oct. 16 at Sweeney-Phillips & Holdren Funeral Home in Warrensburg.
She was born April 19, 1920, in Barnett, Mo., the daughter of Rue and Mary Edna (Campbell) Miller.
She was united in marriage June 25, 1939 to her college sweetheart, Doyne Whitaker in Barnett. He was in the family business bank with his father, H. C. Whitaker. Bernadine and Doyne were married 43 years until his death on death July 11, 1983.
Bernadine was a member of the First Presbyterian Church of Warrensburg. She did teaching demonstrations for church Sunday school teachers of 4- and 5-year-olds at Missouri Valley College in Marshall, Mo.; at Westminster College in Fulton, Mo.; and Park College in Parkville, Mo. Bernadine was only the second woman ordained as elder in the Sedalia Presbytery. She was also a loving wife, mother, grandmother and homemaker.
She is survived by one daughter, Beverly Hocker and husband Lyle of Lee's Summit, Mo.; one son, Victor Whitaker of Cleaver, Mo.; five grandchildren: Danny Whitaker of Blairstown, Mo.; Tracy Whitaker of Kansas City, Mo.; Shawna Johnson of Blue Springs, Mo.; Kevin Lyle Hocker and wife Mary of Bates City, Mo.; and Kary Todd Hocker of Lee's Summit; two sister in-laws: Janes Jones and Helen Whitaker, both of Clinton, Mo.; and several great-grandchildren.
Bernadine was also preceded in death by her parents and one grandson, Warren Whitaker.
Memorial contributions are suggested to the First Presbyterian Church of Warrensburg and can be left in care of the funeral home.

[e-mail_link]