Wilbur Gene Jennings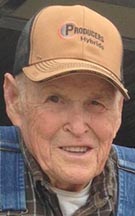 Wilbur Gene Jennings, 85, of Holden, Missouri, died Sunday, May 3, at Belton Regional Medical Center.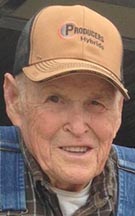 Funeral services will be 2 p.m. Tuesday, May 5, at Elm Spring Baptist Church with Pastors Gordon Kendrick and John Kendrick officiating. Interment will follow in the Elm Spring Cemetery with military graveside honors provided by Veterans of Foreign Wars, Memorial Post 5844 and Munday-Hancock Post h90, American Legion.
The family will receive friends from 1-2 p.m. Tuesday at the church.
Wilbur was born Dec. 10, 1929, on his parent's' farm near Elm, the son of Ralph and Nellie May (Specker) Jennings. He served in the United States Army during the Korean War. He farmed southeast of Holden for nearly 50 years. Wilbur also was a real estate investor in Sedalia at one time. He was an avid gardener. He also cut and sold firewood his entire adult life.
Survivors include his four children, Ruth Hancock, of Belton, Missouri; Russell Jennings, of Holden; Sharon Quick and husband, Larry, of Centerview, Missouri; and Willie Jennings and wife, Dianna, of Holden; sister, Carmen Ailor, of Holden; brother, Kenneth Jennings and wife, Lucille, of Holden; eight grandchildren, David Hancock, of Belton; Luke Jennings and wife, Holly, of Warrensburg; Renae Jennings, of Kansas City, Missouri; Daryl Quick and wife, Fairon, of Las Vegas; Vicky Draisey and husband, Kyle, of Kansas City, Missouri; Tyler Jennings, of Holden; Katelyn Summer and husband, Joey, of Holden; and Hayden Jennings, of Warrensburg; five great-grandchildren, Brady Jennings, Macy Jennings, Caitlin Quick, Mekhi Quick and Hudson Summer. He was preceded in death by an infant son, Howard Lee Jennings; daughter, Mary Jennings; sister, Janelle Shippy; brother, James Ralph "Bud" Jennings; and daughter-in-law, Susan Jennings.

Memorial contributions are suggested to Elm Spring Cemetery Association.
Arrangements entrusted to Williams Funeral Chapel in Holden. Online condolences may be left at www.williamsfuneralchapel.net.