Gertrude Pehl Innes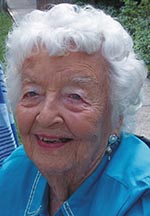 Gertrude Pehl Innes, 103, died at her home in Warrensburg on March 28.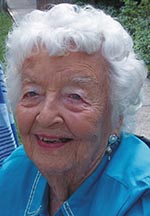 Services will be Monday, April 6 at 10:30 a.m. at Christ Episcopal Church, officiated by the Rev. Lawrence Lewis. Burial will be at Sunset Hill Cemetery following the service.
Friends may call anytime after noon on Saturday, April 4, at Sweeney-Phillips and Holdren Funeral Home in Warrensburg.
Gertrude was born Sept. 3, 1911, in Kansas City, Missouri, to Grace (Hill) and Max W. Pehl. She was a graduate of Park College, now Park University. After graduation, she had an early career as a social worker in southern Iowa. She married Richard Alan Innes on Sept. 11, 1937, in Parkville, Missouri, and they enjoyed 62 years together.
Gertrude actively supported the Warrensburg community and was an ardent Episcopalian. She was the first woman to be elected to the vestry of Christ Episcopal Church. She was also a member of the ABC Club, AAUW and was one of the first members of the Trails Regional Library board. Gertrude was devoted to her family and was a thoughtful and generous friend. She was always a gracious hostess and her gift as a master storyteller was legendary.
She is survived by two daughters, Leslie (Glenn) Petrie and Laurie (Rick) Squiric, both of Warrensburg; a daughter-in-law, Clarice (Roger) Ewing, of Overland Park, Kansas; six grandchildren, Scott Innes, Lisa (Tony) Colletti, Matthew (Tricia) Innes, Kathleen (Jeff) Fuller, Emily (Donta) Smith and Jeffrey (Amy) Squiric; and nine great-grandchildren, Isaiah Innes, Jerome and Grace Colletti, Shelby, Colin and Claire Innes and Samuel, Sydney and Benjamin Fuller.
She was preceded in death by her husband, Richard, in 1999; a son, Richard Alan Innes II, in 1977; and two brothers, Clifford and Milburn Pehl.
The family suggests memorial contributions be made to the Cystic Fibrosis Foundation-Gateway Chapter, 8251 Maryland Ave, Suite 12, St. Louis, MO 63105, and also may be left in care of the funeral home.