Benjamin Franklin Thomas Harrison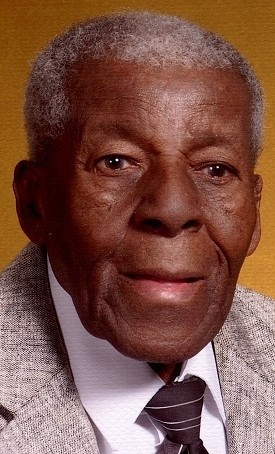 Benjamin Franklin Thomas Harrison, 98, only 10 days shy of his 99th birthday, of Kansas City, Missouri, died Friday, Feb. 6, surrounded by his family.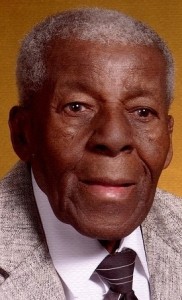 Funeral services will be held at 1:30 p.m. Friday, Feb. 13, at Shiloh Missionary Baptist Church in Warrensburg with the Rev. Terrence Moody officiating.
Interment will follow at Warrensburg Memorial Gardens Cemetery.
The family will receive friends from noon until service time Friday at the church.
He was born on Feb. 16, 1916, in the township of Mount Olive, Missouri, to Jacob Harrison and Matilda Foy. His parents and 12 of his siblings, Levi, Joseph, Elmer, Victoria, Jinnie, Corrine, Sally, Anna and his baby's siblings, Roy Lee, Edward Arthur, Verie Matilda and Philmo, preceded him in death. His wife, Georgia Viola Morgan Harrison of 57 years, died on April 25, 2001; his son, Larry Thomas Harrison, two daughters, Georgia Marie and Wanda Mae Harrison, preceded him in death also.
Bennie, as he was well known as, was raised on the farm in Mount Olive, where he received his education. He was quiet, hardworking and resourceful. He began his church membership in Mount Olive Missionary Baptist Church enjoying the fellowship and the wonderful "basket dinners" after church.
He was united in marriage to Georgia Viola Morgan on Oct. 3, 1943. They lived in the Holden and Warrensburg communities working and raising their family. After moving to Warrensburg, they became members of the Shiloh Missionary Baptist Church. A man of few words, when someone told him how good he looked, he would say, "Nothin' but the Good Lord."
Bennie, who had a sweet and gentle soul, was a simple man, who never complained. He went about his daily chores or task smiling at everyone, with a humble spirit. He worked for many years for railroad, pipeline and construction companies. On retirement, he continued his lawn service business. He loved to garden, mow and landscape yards.
In 2005, Bennie was the recipient of the Heritage Award for Outstanding Contribution and Dedication to the citizens of Johnson County from the pastor and members of Warren Street United Methodist Church. He was also presented a Missouri House of Representatives resolution for his longstanding service with the railroad for being the first African American to retire from state of Missouri.
He loved to laugh and play with his children, grandchildren, great-grandchildren and the tiny great-great-grandchildren.
He leaves two sons, Chester L. Harrison (Jeanette), Raytown, Missouri; and Wayne F. Harrison (Rhelandeau), Warrensburg; five daughters, Carolyn D. Coates (Ezell), Mesa, Arizona; Joyce E. Pearson, Linda L. Person (William), Victoria D. Redmond and Patricia V. Harrison; sisters-in-law, Mary Virginia Thomas, Kansas City, Missouri; and Theresa Dean Reed, Warrensburg; a host of grandchildren, great-grandchildren and great-great grandchildren, nieces, nephews, cousins, friends and church families.
Services are under the direction of Sweeney-Phillips & Holdren Funeral Home in Warrensburg.